Cast announced for new musical The Commitments
by Oliver Mitford on Monday 26 August 2013, 4:20 pm in Cast Changes and Announcements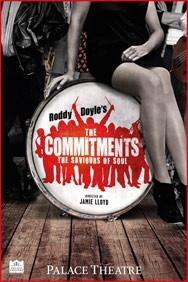 Cast announced for new musical The Commitments, due to arrive at the Palace Theatre in September 2013.
Surprisingly, director Jamie Lloyd, who is well known for working with big-name actors such as James McAvoy and Hailey Atwell, has opted for an unknown and untested cast of newcomers for his production of Roddy Doyle's musical The Commitments.
The lead role of Jimmy Rabbitte is to be played by Denis Grindel, who, at just 22 years old, will be making his West End debut. The law student-turned-actor hails from Dublin and reportedly won the role over thousands of hopefuls that auditioned for the lead part in the musical adaptation of Roddy Doyle's prize-winning novel.
It seems that Lloyd and the producers of the show are doing an 'art imitating life' with the casting of The Commitments, seeing as the plot follows the rise of young and exciting talents that are looking for their big break. Consequently, they have cast a young ensemble that is as hungry and raw as the characters they are playing!
In a statement to the press, the show's producers said: 'Not only are some of the cast making their West End debuts, but others who have come through the walk-up audition process are making their professional acting debuts.' Roddy Doyle, the musical's adapter and writer of the original book, followed this by saying: 'I've been sitting in rehearsals, watching these terrific young people becoming The Commitments. I'm hearing them sing; I'm watching them play their instruments – and it all makes me very happy and excited. What amuses me most is the fact that only one of them was born when I wrote the novel.'
Joining Grindel in the gang of newcomers is Sarah O'Connor, Stephanie McKeon, Jessica Cervi, Mark Dugdale, Brian Gilligan and Joe Woolmer.
The Commitments premieres at the Palace Theatre on 8 October 2013, with previews from 21 September.