CITY OF ANGELS and the Spring Season at the Donmar Warehouse
by Phil Willmott on Tuesday 20 January 2015, 9:21 am in Upcoming and New Shows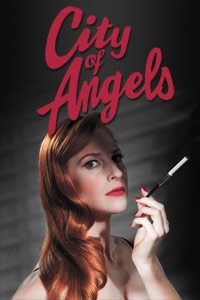 It's been a while since the fashionable Donmar Warehouse staged a musical and anticipation was so great for this revival of the cult favourite CITY OF ANGELS that it sold out very quickly. Luckily the reviews have reported that it's lived up to expectations and we can expect a West End transfer. You can also get tickets on the day if you're prepared to queue while it's still at the Covent Garden venue and it'd be well worth your time.
It's an unusual and ambitious piece that takes an affectionate look at the conventions of Private Eye Film Noir. There are two parallel stories and we see scenes from the life of a screen writer and the film he's dreaming up which mirror the ups and downs of his own life and career.
There's something quite intoxicating about Hollywood in the forties and you'll get an eyeful of glamorous retro frocks on a clever set by Robert Jones that's lit by Howard Harrison in such a way that the scenes depicting the writer's screenplay almost appear to be black and white. Clever projections by Duncan McLean also make type written words dance across the piles of scripts that loom at the back of the stage.
The production is also notable because it's the first musical to be directed by the highly regarded artistic director of the Donmar, Josie Rourke. She's wisely surrounded herself with a fantastic cast and creative team including the West End's favourite Musical Director Gareth Valentine who's band do full justice to the sexy, brassy score by Cy Coleman, best known as the composer of Broadway and Hollywood classic SWEET CHARITY. Rourke keeps the action fast moving and slick aided by Stephen Mear one of the UK's most sought after choreographers.
The cast, as you'd expect for this prestige project, is top class. Hadley Fraser plays our writer, Stein, and he's an actor who combines good looks with a beautiful singing voice and real flair as an actor. As the themes of the show get darker he perfectly captures the anguish of heart break and selling out as a writer.
His hero is private eye Stone played by the equally charismatic Tam Mutu, expertly embodying the hard ball cynicism of the classic loner detective. Peter Polycarpou is perfectly cast as an unhinged and unscrupulous movie mogul who has given Stein the opportunity to adapt his novel into a film. He has the comic timing of Groucho Marx and a soaring voice that's captivated audiences since he first came to prominence singing Bui Doi in the original 1990s cast of MISS SAIGON.
Aptly the Hollywood goddesses are played by stage goddesses. Katherine Kelly, ex of CORONATION STREET and star of TV's MR SELFRIDGE, and musical theatre leading ladies Rosalie Craig and Rebecca Trehearn ooze glamour as the complex, ruthless women who manipulate detective and writer.
The music is jazz based, all blaring horns and infectious rhythms that are instantly evocative of vintage Broadway. Larry Gelbart's script is witty and David Zippel's lyrics are an irresistible combination of acid and romance.
If you've never been to the Donmar Warehouse it's a unique studio space in which the audience sit very near to the action, around three sides of the stage and banked up above it. It's a fantastic place to discover great productions by clever directors, starring top actors. You really do get to see some of our finest talent and biggest stars in close up.
There's always great demand for seats so it's well worth booking right now for future productions which, this Spring include Rufus Sewell in a February – March revival of Patrick Marber's stage and film hit CLOSER, one of modern theatre's wittiest and most insightful looks at urban relationships. Clever playwright, James Grahame, looks set for another hit when Josie Rourke returns in April to direct his latest play, THE VOTE, set in a polling station during the forthcoming general election, which will also be broadcast live on TV. Perhaps our greatest actor Simon Russell Beale plays his latest lead role at the venue, where he's enjoyed a string of hits, starring in TEMPLE another new play, set during the period last year when anti-capitalist protestors camped outside St Paul's cathedral. He'll be directed by acclaimed National Theatre associate Howard Davies this May.