Cinderella at the Coliseum this week
by Phil Willmott on Wednesday 8 July 2015, 6:32 pm in Upcoming and New Shows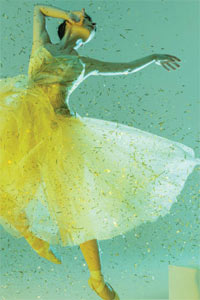 The West End offers classical music and dance lovers a massive treat this week. The Coliseum on St Martins Lane plays host to superstar choreograoher Christopher Wheeldon's Cinderella ballet.
It won't be the sugary sweet confection you might imagine. This classic of the ballet repertoire has a stirring, spiky, haunting score by Prokofiev that's far more interesting then pretty tunes. You'll recognise many of the themes from TV commercials over the years. It's also inspired a number of productions where the choreographer, who sets the steps, has been very imaginative.
There's some pretty, chocolate box productions out there of course but the last time Londoners got to see it was in a staging by Matthew Bourne (who gave us the famous production of Swan Lake with male swans) He set the Cinderella story in London during the bombing raids of World War 2. The first time I saw it I found this rather alienating but when I returned, prepared, a year later it's vision of youthful innocence winning over a cruel, grey world at war was deeply moving.
Bourne has set a very high standard but Wheeldon's staging of an American in Paris was a highlight of my recent trip to Broadway. If that production's anything to go by his fresh interpretation of Cinders should be a blast of colour, energy and wit. This production was first created in Holland and has already been a big hit internationally.
I'm expecting to fall in love.