Casting Announced for First National Tour of INVINCIBLE
by Best of Theatre Staff on Thursday 25 February 2016, 10:14 am in Cast Changes and Announcements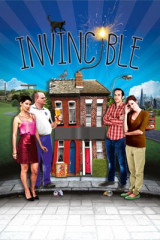 Casting has been announced for the first ever national tour of Torben Betts's INVINCIBLE, directed by Christopher Harper. The full cast includes Alastair Whatley as Oliver, Emily Bowker as Emily, Graeme Brookes as Alan and Kerry Bennett as Dawn. The tour will begin at the Theatre Royal Bury St Edmunds on 30 March.
Alastair Whatley most recently played Teddy Graham in the 2015 UK tour of Flare Path and Evans in the UK tour of Birdsong (Birdsong Productions/ Original Theatre Company). Other recent theatre roles include Jerome in Three Men in a Boat and The Reverend Lionel Toop in See How They Run (both for Original Theatre Company), and the title role in Henry V (South Hill Park). Alastair is also the Artistic Director of the Original Theatre Company.
Emily Bowker is currently appearing at Salisbury Playhouse in Up Down Man, the sequel to the internationally acclaimed Up Down Boy by Brendan Murray (A Myrtle Theatre Company/Salisbury Playhouse). Emily's recent roles include Isabelle Azaire in the 2015 UK tour ofBirdsong (Birdsong Productions/ Original Theatre Company), A Bunch of Amateurs (The Watermill), What the Women Did (Two's Company/Southwark Playhouse) and London Wall (Two's Company/Finborough and St James Theatres).
Graeme Brookes most recently appeared in The Tempest (Teatr Modrzejewskiej/Colchester Mercury), A View from a Bridge, The Rivals, A Slight Ache/The Lover, King David – Man of Blood (Colchester Mercury Theatre), Transmissions (Birmingham Rep), Tanika's Journey (Frantic Assembly/Deafinitely Theatre) and The Police (Battersea Arts Centre).
Kerry Bennett recently finished playing Jess Cranham in the BBC One drama Casualty. Kerry's theatre work includes Celia and Cora in Calendar Girls (National Tour), Cassandra in One for All (Finborough Theatre) and Natalie in The Queen is Dead (The Lowry).
With the recession biting hard, Emily and Oliver have decided to downsize and shift their middle-class London lifestyle to a small town in the north of England. One night, they open their doors to their next door neighbours, Dawn and Alan. Over the course of a disastrous evening of olives, anchovies, Karl Marx and abstract art, class and culture collide, resulting in consequences that are both tragic and hilarious.
INVINCIBLE had its world premiere at the Orange Tree Theatre, Richmond in 2014 and transferred later that same year to St James Theatre, London. It received great critical acclaim.
Torben Betts was born in Lincolnshire and studied at Liverpool University. He became the resident dramatist at Scarborough's Stephen Joseph Theatre in 1999. Poet and dramatist Liz Lochhead said Betts "is just about the most original and extraordinary writer of drama we have." His play The Unconquered won Best New Play 2006/07 at the Critics' Awards for Theatre in Scotland. 2015 saw a revival of his acclaimed 2012 play Muswell Hill at London's Park Theatre, his latest work, What Falls Apart, opened at Newcastle's Live Theatre, and his version of Chekhov's The Seagull was staged at Regent's Park Open Air Theatre. He has adapted Get Carter for Northern Stage in Newcastle, which opened in February this year, before embarking on a major national tour.
Director Christopher Harper is an Associate of the Original Theatre Company and directed their 2011 production of See How They Run. As an actor, he recently finished playing Benedick on a world tour of Much Ado About Nothing for the Globe, and starred as Victoria Wood's son, Cliff Last, in the television film Housewife 49.
INVINCIBLE will be designed by Victoria Spearing, with sound by Dominic Bilkey. The national tour is produced by Tom Hackney for The Original Theatre Company and Adrian Grady for Theatre Royal Bury St Edmunds.