Cast Announced for MY FAIR LADY at The Mill at Sonning
by Best of Theatre Staff on Monday 25 September 2017, 11:17 am in Cast Changes and Announcements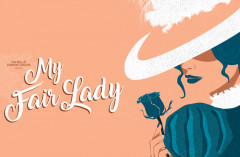 The Mill at Sonning is delighted to announce casting for this year's Christmas musical MY FAIR LADY, the story of Eliza Dolittle which has captivated audiences for decades. Performances begin on Thursday 23 November with press night on Wednesday 29 November 2017.
The full cast is: Eric Carte as 'Colonel Pickering/Ensemble'; Felicity Duncan as 'Mrs Pearce/Ensemble'; Francesca Ellis as 'Mrs Eynsford-Hill/Ensemble'; Martin Fisher as 'Professor Higgins'; Alex Hammond as 'Freddy Eynsford-Hill/Ensemble'; Susan Kyd as 'Mrs Higgins/Ensemble'; Rachel Moran as "Clara Eynsford-Hill/Ensemble'; Bethan Nash as 'Eliza Dootlittle'; Spencer O'Brien as 'Harry'; Amanda Sim 'Ensemble'; Phil Snowden as 'Alfred Doolittle' and James William-Pattison as 'Jamie/Ensemble'.
The story of Eliza Dolittle – the Cockney flower girl who speaks in 'yowls' and not 'vowels', plucked off the streets of London by the arrogant Professor Higgins declaring he can pass her off as a Duchess in six months – has rightfully captivated audiences for decades.
Add to this an unforgettable score including songs Wouldn't It Be Loverly?, On The Street Where You Live, I Could Have Danced All Night and Get Me To The Church On Time and My Fair Lady's phenomenal success worldwide is readily understood.
Following the record-breaking success of HIGH SOCIETY last Christmas, The Mill is delighted to welcome back the same creative team for MY FAIR LADY: Joseph Pitcher will be Directing and Choreographing, along with Musical Arrangement by Charlie Ingles. They are joined by Musical Director Joe Bunker, Set Designer Michael Holt, Costume Designer Natalie Titchener and Assistant Choreographer Rachel Moran. Adapted from George Bernard Shaw's play and Gabriel Pascal's Motion Picture Pygmalion, MY FAIR LADY has Book and Lyrics by Alan Jay Lerner and Music by Frederick Loewe.