The Big House announces the return of BULLET TONGUE RELOADED
by Best of Theatre Staff on Thursday 4 April 2019, 4:31 pm in Upcoming and New Shows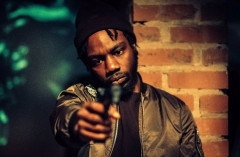 The Big House today announces the return of Bullet Tongue Reloaded a promenade piece at the new home of The Big House in Islington. Written by Andrew Day and Sonya Hale, the production tackles the topic of County Lines and was developed with a young cast many of whom are directly affected by this issue. The production opens on 24 May, with previews from 22 May and runs until 15 June.
Bigger, bolder, and braver than the 2018 production, Bullet Tongue Reloaded will submerge you in the underworld of county lines drug dealing, where teenagers fight for status, wealth, love, survival, and the simple right to be heard.
You know the second I put one foot on the pavement the game is on - like it or not. The opps could be up in my face, with a blade, with a bullet. We is all in the game, just like we was wearing a shirt with our names on. In the game, from young.
Maggie Norris, Artistic Director and CEO of The Big House, and director of Bullet Tongue Reloaded, said today, "We are re-staging Bullet Tongue because of the overwhelming response from critics, audiences and professionals coping with the phenomenon of county lines drug dealing. The show asks how and whether we should dismantle an outlaw economy that has taken the place of the welfare state for excluded youth.
County lines is the name given to drug distribution networks extending from urban centres into suburbs and small towns across the land. Gangs recruit vulnerable children as young as 11 to move drugs and money for them, using social media. Many of the young people that we work with know about County Lines first hand. Both exhilarating and unsettling, Bullet Tongue Reloaded is a rare opportunity in the theatre to experience a radically different view of the society that we supposedly share – raw and unrefined."
Maggie Norris is Artistic Director and CEO of The Big House for which she has directed productions including Phoenix, Babylon, Politrix, The Realness, Electric, Knife Edge, Brixton Rock, Phoenix Rising. Her other directing credits include Bad Girls - The Musical (West Yorkshire Playhouse/Garrick Theatre), The Sunshine Boys (West Yorkshire Playhouse), The Bodies (Live Theatre, Newcastle) and Josephine (Battersea Arts Centre/The Coliseum Theatre/UK tour). She was previously Artistic Director of Only Connect where her credits include Any Which Way, Family Matters, Badman Christmas and His Teeth (Wormwood Scrubs). As an actress Norris appeared as series regular Claire Palmer in Coronation Street. For film she produced Mrs Ratcliffe's Revolution, based on her own personal story.
Andrew Day is a Writer in Residence for The Big House. His previous writing credits for the company include Phoenix, Babylon, Electric and Phoenix Rising.
Sonya Hale has had plays performed at The Southbank Centre, Latitude Festival and in prisons and treatment centres. She has worked with Synergy Theatre Project, Clean Break Theatre Company and The Outside Edge. She runs writers' workshops and is associate workshop facilitator at Outside Edge; and is currently under commission at Clean Break. Hale won the Synergy Theatre Project's national prison scriptwriting competition and her most recent play Dean McBride won the Heretic Voices competition in and was performed at Arcola Theatre last year, directed by Roy Alexander Weise.