Get Up, Stand Up! The Bob Marley Musical postpones opening until October 2021
by Best of Theatre Staff on Thursday 18 February 2021, 11:32 am in Theatre News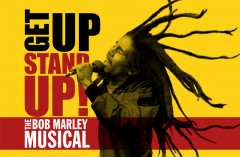 Producers of the new musical Get Up, Stand Up! The Bob Marley Musical have today taken the decision to delay the start of performances until social distancing is lifted. The first preview will now take place at the Lyric Theatre on 1 October 2021 with an opening night on 20 October 2021.
The producers are convinced that this joyous and uplifting show will be at its best when a full house can enjoy the legendary music of Bob Marley. For this reason they have decided to pause until a time when it is possible to open theatres at full capacity.
Patrons will be contacted by the box office or their point of purchase in due course with updated booking details.