Blanc de Blanc arrives in London this Summer
by Best of Theatre Staff on Thursday 2 June 2016, 3:14 pm in Upcoming and New Shows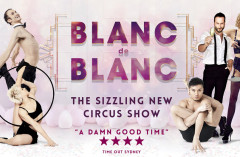 The Circus comes to town with the London premiere of sizzling new show Blanc de Blanc. After a sold-out critically acclaimed run at the Sydney Opera House, Blanc de Blanc comes to the London Hippodrome from the 14 July until the 28 August with press night on Friday 22 July. Blanc de Blanc is brought to you from the award winning creative team behind Madonna's recent Rebel Heart Tour, and is directed by Scott Maidment (LIMBO, Cantina, Madonna' Rebel Heart Tour), choreographed by Kevin Maher (choreographed for Justin Bieber, Britney Spears and Madonna), with costumes by James Brown (All Saints, Australian Idol).
This brand new production direct from a triumphant run at Sydney Opera House promises a thrillingly up-close and seductive evening in the intimacy of the iconic Hippodrome Theatre. Every act in the show is inspired by champagne: from giant bubbles and foam, to a champagne fountain and a fabulous champagne spa, through k-Pop to an explosive champagne-pouring codpiece and more! Blanc de Blanc takes you on an immersive journey through all the feelings surrounding a glass of champagne; from the sophistication of pouring the gold, sparkling liquid to the effervescent explosiveness of that first sip. Blanc de Blanc offers heady top notes followed by rich textures, a smooth body and an utterly unexpected finish.
Director Scott Maidment said, "With an amazing history of performance, the Hippodrome has a unique atmosphere filled with theatre heritage of a bygone era. This was the obvious place for Blanc's London premiere. Having devised several shows for London, I wanted to find a venue that was much more than just a theatre: a space that would evoke the style, sophistication and fun atmosphere of the show itself. Once we had this venue and these amazing performers from around the world, the only thing left to do was shake it up and make it fizz."
Simon Thomas, CEO of the Hippodrome Casino, whose 240-seat cabaret theatre will host Blanc de Blanc's London run, said: "I couldn't be more excited to welcome a circus show back to the Hippodrome. When the building opened as a theatre in 1900 it was a circus venue, with a 100, 000 gallon pool and presented London's most ambitious shows involving bears, tigers and lions with a stagecoach racing around the auditorium pulled by horses.
"Blanc de Blanc represents a heartfelt ambition I have had since opening the theatre here at The Hippodrome to bring back a new and dynamic circus show. Once again we will be pushing new boundaries in entertainment for London."
The show will be produced by Strut & Fret Production House (Cantina, LIMBO) in association with The London Hippodrome.
The fabulous Blanc de Blanc's cast includes:
Monsieur Romeo, our gorgeous Maître d' for the evening
Spencer Novich, Romeo's hapless, hilarious sidekick
Shun, our Japanese contortion acrobat and dancer
Ja'Mimie, a juggler, mime artist, bubble girl and dancer
Mahsa, our hoop artist and aerialist
Jerome, our extraordinary aerialist
Emma Maye, surreal showgirl extraordinaire
Blanc de Blanc, bubbles over with vintage glamour and high-end spectacle. Serving up titillating acts to infatuate, illuminate and delight, Blanc de Blanc brings together the finest cabaret talent from around the world. An effervescent evening of acrobatics, sizzling cabaret and up-close immersive fun, be prepared to enter a wild night of big moves, great tunes, huge amounts of skin, and more than a few surprises in Blanc de Blanc.
The London Hippodrome was opened in 1900 and has been at the forefront of ground breaking entertainment ever since. The first show featured a then unknown chorus performer, Charlie Chaplin. Since that time the Hippodrome has seen many of the world's most famous artistes appear at the Leicester Square venue. The first performance of jazz in the UK happened on the stage of The Hippodrome. Dame Julie Andrews gave her first professional appearance. The great Judy Garland, her final one. During the Hippodrome's days as the host of the world famous Talk Of The Town it was easier to ask who had not performed there…Shirley Bassey, Sammy Davis Jnr, Eartha Kitt, Tom Jones, Michael Jackson, Dean Martin.
Fast Forward to 2009 when an extensive restoration programme began, taking the Hippodrome back to its original designs, this time as the UK's largest casino and entertainment venue, and was opened on 13 July 2012 by the former Mayor of London Boris Johnson. The fabulous cabaret room at the Hippodrome is delighted to welcome Blanc de Blanc as its first full length residency, bringing glamour, fun, and plenty of bubbles back to a venue with such a rich heritage in circus and burlesque.