Location, Location, Location for West End Long Runners
by Phil Willmott on Friday 21 February 2014, 8:35 am in West End News & Gossip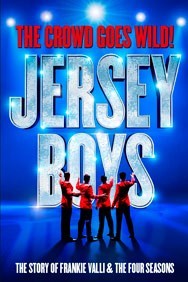 It's all change at Jersey Boys as the long running West End and Broadway juke box musical that showcases the music of Frankie Valley and the Four Seasons moves from the Prince Edward Theatre to the Piccadilly Theatre up the road.
This often happens with long established, popular shows which can afford to move to less prominent theatres confident that audiences will still seek them out. This leaves the premiere venues free for producers to launch new titles.
Mamma Mia played for years at the immaculately refurbished Prince of Wales Theatre off Leicester Square before moving to its current home The Novello at the quiet end of the Strand so Book of Mormon could take over its original home.
Les Miserables was a long term tenant of The Palace Theatre regarded by producers as the most visible of West End houses, looming majestically over Cambridge Circus. But it now plays just as successfully at the smaller Queens Theatre a little further along Shaftesbury Avenue where rent and therefore running costs are cheaper. Meanwhile Priscilla, Singing in the Rain, Derren Brown and now The Commitments have benefited from the profile opening at the Palace can bring.
But the Piccadilly Theatre isn't the only venue set to be rocking with the sound of those working class good fellas from New Jersey. The show's set for a national tour too.
All this activity must be frustrating to see for the many investors who turned down the chance to put money in the show because they feared British Audiences would confuse the New Jersey referred to in the title with genteel holiday destination in the Channel Islands!
Big mistake!