Richard Armitage set to star in Arthur Miller's The Crucible at Old Vic
by Oliver Mitford on Thursday 24 April 2014, 9:29 am in Cast Changes and Announcements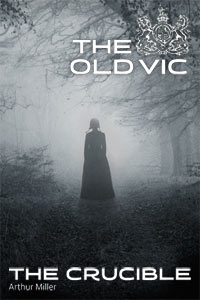 It has been announced that the upcoming revival of Arthur Miller's The Crucible at the Old Vic Theatre will be led by British rising star Richard Armitage. The production is due to begin previews from 24 June 2014 and is said to be a vivid reimagining by director Yaël Farber, whose previous work has won her numerous international awards for theatre directing including a Drama Desk Award and TMA Best Director Award.
Richard Armitage will play John Proctor in the Old Vic production. He is best known for his role of Thorin Oakenshield in The Hobbit trilogy, directed by Peter Jackson. His other screen work includes Spooks and Robin Hood.
Anna Madeley, best known for her performance in the National Theatre's Earthquakes in London, and newcomer Samantha Colly will join Armitage as the principal cast of The Crucible. The supporting cast includes Sarah Niles, Rebecca Saire and Zara White.
The Crucible is one of Arthur Miller's best-known plays, having been performed at the Regent Park Open Air Theatre in 2010, with Patrick O'Kane in the role of John Proctor. The play is set in the small Massachusetts town of Salem, where in 1692, the infamous Salem Witch trials took place. The story follows John Proctor as he struggles to preserve his good name against a tirade of accusations from the repressed Puritan society. The play was written in the aftermath of the McCarthy trials in America, in which Miller himself was brought before The House Un-American Activities Committee accused of Communist party links.
The Crucible runs from 24 June to the 13 September 2014 at the Old Vic Theatre.