PW Productions Announces UK and US Tour Dates for AN INSPECTOR CALLS
by Best of Theatre Staff on Friday 15 June 2018, 4:13 pm in Theatre News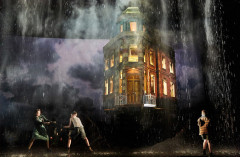 PW Productions are delighted to announce UK and US touring dates for Stephen Daldry's seminal production of JB Priestley'sclassic thriller "AN INSPECTOR CALLS" opening at York Theatre Royal (14 – 22 September 2018), before touring to Cambridge Arts Theatre (25 – 29 September 2018), New Wimbledon Theatre (2 – 6 October 2018), Cheltenham Everyman Theatre (9 – 13 October 2018), Shakespeare Theatre Washington DC (20 November - 23 December 2018), Wallis Annenberg Center Los Angeles (22 January – 10 February 2019), Chicago Shakespeare Theater (19 February – 10 March 2019) and Arts Emerson, Boston (14 – 24 March 2019). Listings details below.
Since 1992, Daldry's production of "AN INSPECTOR CALLS" has won a total of 19 major awards including four Tony Awards and three Olivier Awards. It has played to more than 4 million theatregoers worldwide and is the most internationally-lauded production in the National Theatre's history.
Written at the end of the Second World War and set before the First, "AN INSPECTOR CALLS" is a compelling and haunting thriller. The story begins when the mysterious Inspector Goole calls unexpectedly on the prosperous Birling family home, shattering their peaceful family dinner party with his investigations into the death of a young woman.
JB Priestley's brilliantly constructed masterpiece powerfully dramatises the dangers of casual capitalism's cruelty, complacency and hypocrisy.
"AN INSPECTOR CALLS" is directed by the world-renowned theatre and film director Stephen Daldry. Stephen's many theatre credits include "The Audience", "Skylight" and "Billy Elliot The Musical". His film credits include "The Hours", "The Reader" and "Billy Elliot", all of which earned him Academy Award nominations for Best Director. Most recently he has directed several episodes of the Netflix smash hit series "The Crown", for which he is also Producer.
"AN INSPECTOR CALLS" is designed by Ian MacNeil, with music by Academy Award winning composer Stephen Warbeck and Lighting by Rick Fisher.