20th Century Boy looks set for West End transfer
by Oliver Mitford on Wednesday 15 January 2014, 8:22 am in Upcoming and New Shows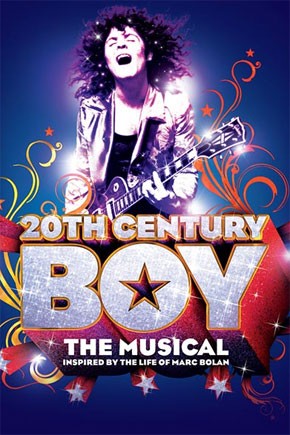 A new musical inspired by rock icon Marc Bolan and the music of T.Rex has hinted at plans for a West End transfer after its 2014 UK tour. 20th Century Boy centres on the legendary band T.Rex and their infamous front man Marc Bolan.
The show is reportedly a celebration of glam rock at its colourful best and is directed and choreographed by Gary Lloyd, the visionary behind West End smash-hit Thriller Live. When asked about the production Lloyd said, '20th Century Boy is a fast paced rock 'n' roll journey through Marc Bolan's short yet eventful life. Told through the eyes of his son Rolan, we learn about the fame driven glam star, his untimely death and the complex relationships he left behind. It's a fascinating story with a '70s soundtrack that defies anyone to leave the theatre not humming along!'
The show features iconic Marc Bolan and T.Rex hits such as Ride A White Swan, I Love To Boogie, Get It On and of course 20th Century Boy.
Written by Peter Rowe, the musical premiered at the New Wolsey Theatre in Ipswich back in 2011 and returned with an acclaimed run at the Belgrade Theatre, Coventry in 2012.
The 2014 tour kicks of in Inverness on 18th April, before moving all around the country.
Details of the West End transfer are still being kept under lock and key, but look out for more information in the coming months!