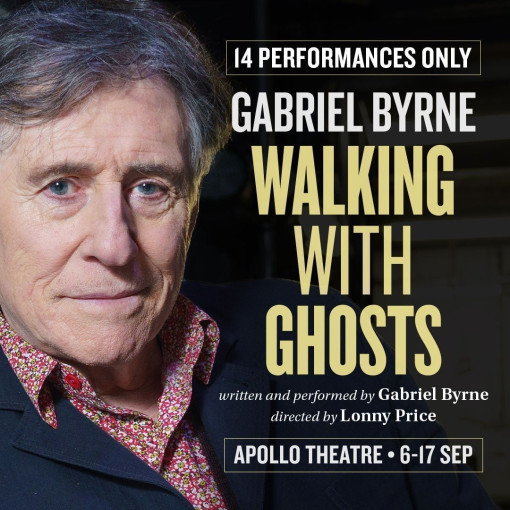 Walking With Ghosts
Opens: Tuesday, 6 September 2022

-


Booking until: Saturday, 17 September 2022
Running time: 2 Hours 30 Minutes
Walking With Ghosts description
Walking With Ghosts – A memoir by Gabriel Byrne
Are you a fan of the amazing Gabriel Byrne? Maybe you've read his startlingly lovely book, Walking With Ghosts? If you'd like to see the actor revealing his best-selling memoir on stage, in that unmistakeable voice, this is for you. Grab some theatre tickets for Walking With Ghosts, sit back, and enjoy the magic.
The award-winning actor has starred in more than 80 films. His memoir has been called an 'exquisite portrait' of an Irish childhood. He writes beautifully, creating a wonderfully vivid and evocative portrait of his young self and the fame that led to addiction. This is the 'dreamy, lyrical, unvarnished' truth about life in a working class family and the discontent fame can bring, and the fact that it's live on stage only increases the impact. It's real, it's true, and it's beautiful.
What's the story behind Walking With Ghosts?
Many have called Byrne's memoir a masterpiece. So is this piece of startlingly good theatre. As hilarious as it is heartbreaking, it'll rock your world. This is what The Guardian newspaper said about the book in its 2020 review:
"Walking With Ghosts is affecting on many levels: a working-class family memoir as well as a meditation on fame and its discontents. His love for, and loss of, his parents is palpable and likewise the loss of his beloved sister Marian, whom he takes back to Dublin after she suffers a breakdown in London. In New York, he answers the phone to a soft Irish voice that tells him of her passing: "'Passing where?' I asked foolishly."
These are the ghosts that stalk this poetic, but often starkly vivid, memoir. In Byrne's evoking of them, they are as alive on the page as they are in his consciousness. And, in the act of writing, he comes to a deeper understanding of the secrets that they held close in a culture that was the opposite of our own: tight-lipped, parochial, perhaps suffocating, but also quietly decent and dignified."
About Walking With Ghosts
The show is written and performed by Gabriel Byrne himself. It's directed by Lonny Price. It's on at the Apollo Theatre in the West End from 6th – 17th September 2022. It's a Landmark Production presented by Neal Street and Playful Productions. And it follows on from a sold-out run in Dublin. As the Financial Times says, "Byrne's charisma is captivating throughout". The Guardian says he's a "beautiful writer and a wonderful physical comedian".
The Sound Designer and Composer is Sinead Diskin, the Set and Lighting Designer is Sinead McKenna, the Costume Designer is Joan O'Clery, and the Associate Director is Matt Cowart.
Buy tickets for Walking With Ghosts
Buy tickets for Walking With Ghosts from us and enjoy simple, efficient service. We'll email your e-tickets to you – all you need to do is show them at the door on the day of the performance.
Starring
Gabriel Byrne
Playing at Apollo Theatre
31 Shaftesbury Avenue, London, W1D 7ES GB (venue info)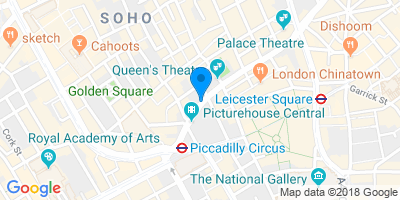 Directions
Age restrictions
12+. Contains strong language and adult themes.
Important information
12+. Contains strong language and adult themes.
Important COVID-19 information
This venue has additional Covid-19 safety measures in place to ensure the health and well-being of the staff, performers, and guests.
We recommend that you wear a mask while inside this venue.
Performance Times