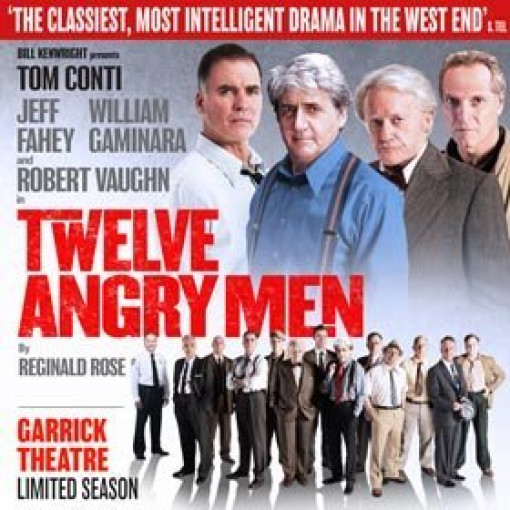 Twelve Angry Men
4.8/5
based on 94 reviews
(read reviews)
Booking until: Saturday, 14 June 2014
Running time: 2 hours 20 minutes
Twelve Angry Men description
Twelve Angry Men tickets – A legend on TV, stage, film and radio
12 Angry Men, by Reginald Rose, examines the ups and downs of the jury in a US murder trial. The original TV play was broadcast in 1954 to huge critical acclaim. The year after it was adapted for the stage and in 1957 Rose's courtroom masterpiece was transformed into a hugely successful movie starring Henry Fonda, directed by Sidney Lumet.
The movie was nominated for Academy Awards for Best Director, Best Picture and Best Writing of an Adapted Screenplay. Since then it has been adapted and remade countless times and it's still respected as one of the finest courtroom dramas ever to hit the stage, small screen or silver screen. Once seen, never forgotten!
Reginald Rose created several stage adaptations of his remarkable story. It has been staged with 12 male jurors, a mix of male and female and female only. It won praise in its Broadway guise during 2004, presented by the respected Roundabout Theatre Company. In 1963 it took to the small screen in Germany, when the TV Channel ZDF created a film adaptation called Die Zwölf Geschworenen.
The extraordinary Indian director Basu Chatterjee remade it as Ek Ruka Hua Faisla in 1986. It hit Russia's silver screen in 2007 in the form of director Nikita Mikhalkov's remarkable remake, '12', a big winner at the prestigious Venice Film Festival. It has been re-named Aa Mukhagalu in the early '80s and Dashamukha in 2012. There has even been an audio version, created in 2005 and directed by John de Lancie. That's what we call a pedigree!
You'll be hard pushed to find anything else with this extraordinary level of exposure, played across such a wide range of media over so many years. And the new version is expected to be yet another classic production of a play that's just as relevant today as it was fifty years ago.
The story? Twelve jurors are tasked with deciding the fate of a troubled youngster accused of killing his dad. At first the jury is certain their more or less unanimous 'guilty' decision is beyond question, with just one member feeling the accused is innocent. But it isn't an open and shut case. Far from it. As the play proceeds a serious dilemma unfolds, driving the fast-paced plot to its famously nail-biting conclusion.
If you'd like to treat yourself to Twelve Angry Men cheap tickets, we provide the full range of seat types, from low cost to premium, all with excellent availability.
Playing at Garrick Theatre
2 Charing Cross Road, London, WC2H 0HH GB (venue info)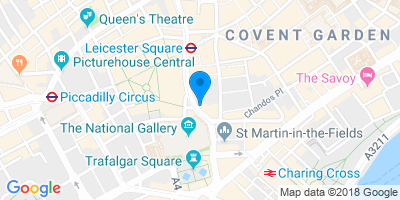 Directions
Age restrictions
Suitable for ages 12+
Important information
THIS BOX OFFICE RECORD-BREAKING PLAY IS NOW IN ITS FINAL WEEKS - MUST CLOSE 14 JUNE
Performance Times
Twelve Angry Men news
Top London Shows - April 2014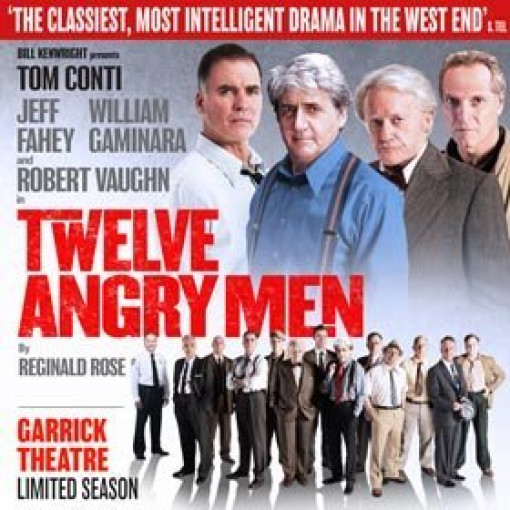 02

Apr
Top London Shows - April 2014