No booking fee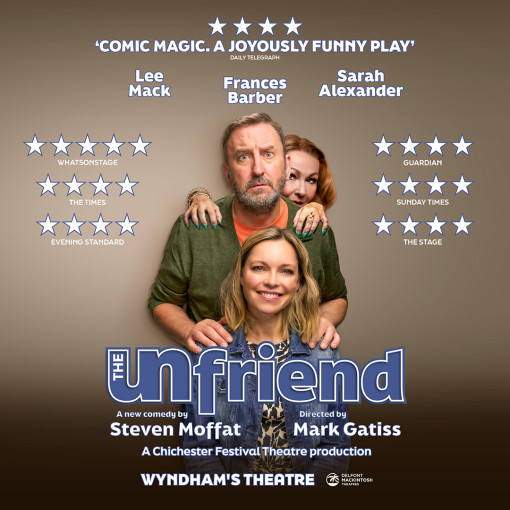 The Unfriend
4.8/5
based on 21 reviews
(read reviews)
Opens: Saturday, 16 December 2023

-


Booking until: Saturday, 9 March 2024
Running time: 1h 55m (incl. interval)
The Unfriend photos
The Unfriend description
The Unfriend – You'll never say 'let's stay in touch' again!
This play has already enjoyed an acclaimed sold-out run at Chichester Festival Theatre, a run so popular with reviews so good it's transferring to the West End. Thanks Chichester, for yet another dazzling success. It's time to welcome The Unfriend to London for a strictly limited season at the Wyndham's Theatre. Buy cheap tickets for The Unfriend here and expect lots of laughs.
This is a truly riotous dark comedy from the writer Steven Moffat and director Mark Gatiss, the award-winning duo who created the BBC's Sherlock series. The cast includes award-winning comedian and actor Lee Mack who will lead the cast as Peter. Joining the cast is Sarah Alexander (Jonathan Creek) as Peter's Wife Debbie and Nick Sampson (Witness for the Prosecution). Frances Barber returns to the play the role of Elsa Jean Krakowski. It's designed by Robert Jones with lighting by Mark Henderson, sound by Ella Wahlström, video design by Andrzej Goulding, and casting by Charlotte Sutton CDG. The show comes with a five star review from What's On Stage and has also been awarded four stars by The Daily Telegraph, Sunday Times, The Guardian, The Stage, and The i.
What's the story behind The Unfriend?
Mark Gatiss and Steven Moffat are a writing team made in heaven, loved for their quirky stories. This time the plot's about a couple on their twentieth wedding anniversary vacation, Pete and Debbie, who are taking a relaxing cruise to celebrate. On board they meet the widow Elsa Jean Krakowski who, despite being a Trump-lover, seems nice enough. Pete and Debbie return home to the UK having extended the famously insincere offer so many of us make to the people we meet on holiday – 'let's keep in touch'. When Elsa unexpectedly turns up on the doorstep for a visit, Pete and Debbie go online to see if they can find out more about her. And there the chaos begins. It turns out she's a killer, and their teenaged kids are at risk.
The Unfriend explores middle-England's disastrous instinct for always being polite, no matter what happens. Will Pete and Debbie be able to bring themselves to say anything at all about their unwanted visitor, or will they be trapped by their own good manners? The result is a dark comedy like no other that delves deep into the psyche of a nation whose inhabitants would do almost anything to avoid being rude – even if it means facing the risk of murder.
About The Unfriend
This gripping comedy by one of the most exciting writing duos in UK TV is designed to delight. Moffat has reunited with the actor and writer Mark Gatiss to bring back one of the most exciting writing duos in contemporary TV, and this new play has already proved very popular indeed. The Daily Telegraph calls it, "Effortlessly entertaining", saying that "Moffatt may be the new Ayckbourn". The i calls it "An uproarious comedy and riotous pleasure". Mark Lawson says it's a "theatrical treat" and Michael Billington says it's the "funniest new play by a British writer since Ayckbourn at his peak".
Buy tickets for The Unfriend
Buy tickets for The Unfriend from us and enjoy simple, efficient service. We'll email your e-tickets to you – just present them at the door on the day.
Playing at Wyndham's Theatre
32-36 Charing Cross Road, London, WC2H 0DA GB (venue info)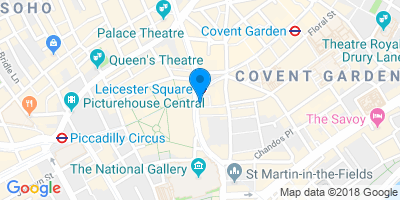 Directions
Age restrictions
12+ recommendation
Performance Times
The Unfriend cheap tickets
No booking fee
No booking fee
PAY NO FEES Valid Monday - Thursday performances 1 January - 8 February 2024. And 23 December evening performance Book by 12 December 2023.