52% off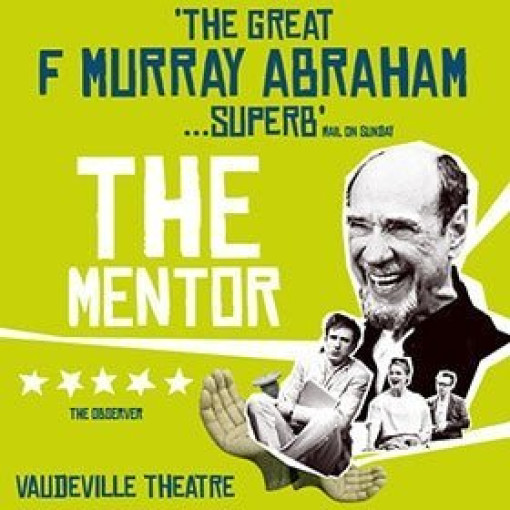 The Mentor
3.6/5
based on 5 reviews
(read reviews)
Booking until: Saturday, 2 September 2017
The Mentor description
What happens when two planet-sized egos clash? A whole lot of top class comedy, that's what. Welcome to The Mentor, Daniel Kehlmann's brilliant comedy play, with the Oscar-winning actor and star of TV's Homeland F Murray Abraham at the helm. It's brilliant.
Abraham plays a veteran playwright who earns €10,000 for a five-day development scheme with an emerging writer, a young man with an ego the size of his mentor's. It's a painfully awkward encounter and makes for an enduringly popular play, a masterpiece in new German writing. And it's on for your delectation at the beautiful Vaudeville theatre.
Cantankerous old writer Benjamin Ruben has one hit to his name. It's called The Long Road, and he wrote it back when he was in his mid twenties. It made him a legend, and he's still capitalising on it. Decades later, people still express their respect and affection for it, the only thing he ever wrote that made an impact worth being proud of. As a result he's both an egomaniac and a bitter and twisted man.
Young Martin Wegner is a rising literary star, a talent who's being called the voice of his generation. He's given the change of developing a new piece of work under Ruben, with the old man as his mentor, and it's an opportunity he can't resist. But when the two meet in a falling-down Art Nouveau mansion somewhere in Germany, their enormous egos are set on an inevitable collision course.
This play is both perceptive and compelling. It's also very funny indeed. It explores art, artists and the curious legacy of fame. And it has already gathered a host of exceptional reviews. The Daily Mail says it's "Deftly translated by Christopher Hampton. Daniel Weyman… brilliant. A sprinkle of Homeland stardust.". The Telegraph says, "F. Murray Abraham… hilarious. A star returns in high style." The Sunday Express says, "Translator extraordinaire Christopher Hampton... superb. Laurence Boswell directs a first-rate cast". And the Mail on Sunday calls it a "wickedly funny tale. The great F. Murray Abraham …superb. Daniel Weyman…excellent. Delicious stuff, smart and funny… beautifully performed".
The signs are looking good. If you want to experience a brand new play that's delighting the critics, grab tickets while they're still available.
Playing at Vaudeville Theatre
404 Strand, London, WC2R 0NH GB (venue info)
Directions
The Mentor cheap tickets
Save 25%
Was £53.00 Now £39.50
Valid all performances until 26 August 2017
Save 25%
Was £40.00 Now £29.50
Valid all performances until 26 August 2017
Save 52%
Was £53.00 Now £25.00
Valid on all performances until 26 August 2017.
Save 49%
Was £40.00 Now £20.00
Valid on all performances until 26 August 2017.
Performance Times