64% off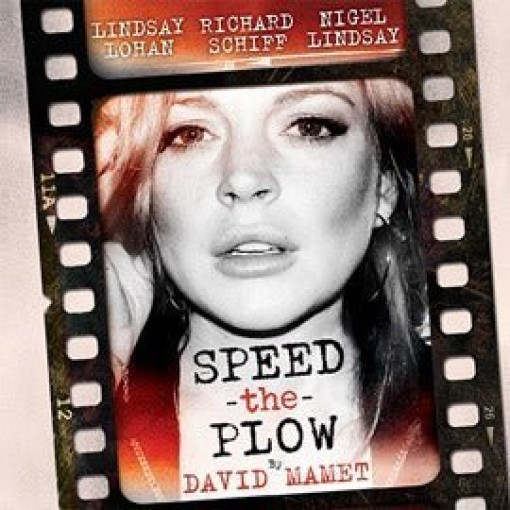 Speed-the-Plow
3/5
based on 4 reviews
(read reviews)
Booking until: Saturday, 29 November 2014
Speed-the-Plow description
Speed-the-Plow – Mayhem and chaos in Hollywood
The multi award-winning film actress Lindsay Lohan is on her way to the glittering West End to play the role of Karen in this remarkable David Mamet play. Lindsay Posner directs, no stranger to making Mamet productions spring into vibrant life and known internationally for her outstanding work.
David Mamet also wrote Glengarry Glen Ross, Oleanna and American Buffalo, and he's one of the best-respected and loved playwrights of his generation. This play is high octane stuff, searingly modern and already well on its way to becoming a classic. Like all his work it's packed with wit and verve and the dialogue is, as ever, quite simply mesmerising.
The show's name comes from a working song dating back to the 1400s, a prayer for prosperity and productivity. What's the story? A film star agrees to appear in a hit movie that's tipped to break records. She's eminently bankable, and the film's producers Bobby and Charlie are certain this is the lucky break they've been looking for.
The future is looking bright until the show's temporary secretary, Karen, sends the producers' dream into a tailspin. She manages to persuade Bobby to dump the sure-fire success of a blockbuster in favour of plot so awful it will inevitable fail, losing them a fortune as well as wrecking their reputations. Will Charlie's desperate measures to bring things back in line bear fruit, or will they misfire?
Superstar Lindsay Lohan hit the big time after her role in the 1998 Disney comedy The Parent Trap, followed by a string of glittering successes including Life-Size, Get a Clue, Freaky Friday, Confessions of a Teenage Drama Queen, Mean Girls and Herbie: Fully Loaded.
Lohan's recent movie hits include A Prairie Home Companion, Georgia Rule, I Know Who Killed Me, Machete and The Canyons, and she also scored high in TV's Glee. And, a multi-talented lady, she also sings like a bird with a handful of chart-topping hits under her belt in the USA.
You can expect three tantalising, edge-of-your-seat scenes exploring the corporate dreams and strategies of Hollywood executives. The moral of the story? The character Gould realises that people only love him because of the power he wields. Some will be open and blatant about it, others will try to deceive him. And he starts to wonder whether there's any real, lasting satisfaction in a career like his, despite all the money and success.
Speed-the-Plow tickets – Hollywood revealed... and it's rotten!
If you'd like to secure Speed-the-Plow cheap tickets, we offer the full range of seating types, from low cost to premium, all with really good availability.
Playing at Playhouse Theatre
Northumberland Avenue, London, WC2N 5DE (venue info)
Directions
Speed-the-Plow photos
Speed-the-Plow cheap tickets
Save 51%
Was £40.00 Now £19.50
Valid all performances until 29 November 2014
Save 64%
Was £90.00 Now £32.50
Valid all performances until 29 November 2014
Performance Times