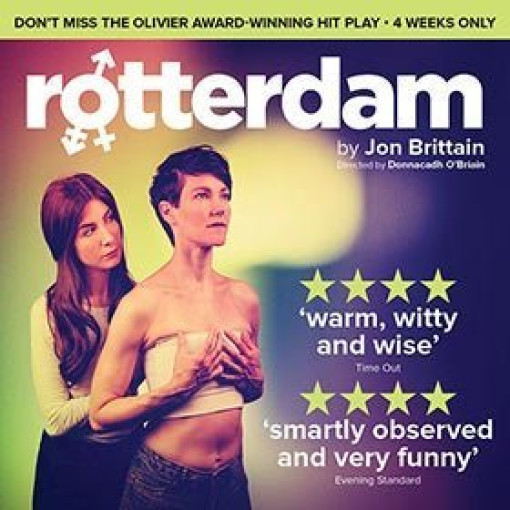 Rotterdam
Booking until: Saturday, 15 July 2017
Rotterdam description
Jon Brittain has created an awesome play in the shape of Rotterdam, starring a lesbian couple. And it does a beautiful job of it, without any sneering or silliness. This is classy stuff, and it has acquired a whole load of well deserved accolades for its subtle intelligence and charm. No wonder it won an Olivier award.
The story? Alice is a lesbian, and happily so. But she hasn't told her parents yet. They're in Rotterdam, it's new year's eve and Alice is about to come out, about to press 'send' on an email to her parents confessing that she's gay. But her girlfriend Fiona decides it's also the perfect time to confess that she's transgender. From now on she wants to be called Adrian, having always identified with men.
Alice is played to perfection by Alice McCarthy and Fiona by Anna Martine. The rebellious weed smoking Dutch girl Lelani who helps persuade the couple to let it all hang out is played by Jessica Clark. Alice is nervous and neurotic, Fiona is stony-faced and cynical, and the result is enormously entertaining in typical compelling Brittain fashion.
This play probes the challenges of being gay and transgender. And despite being serious at heart it's also hilariously funny, particularly where John, Fiona's brother, played beautifully by Ed Eales-White, is concerned. As Time Out said, "it's great to see trans issues getting not only more exposure (just look at the wonderful Rebecca Root in BBC 2's recent sitcom 'Boy Meets Girl') but more respect too."
We agree. Go see it. It's brilliant.
Playing at Arts Theatre
6-7 Great Newport Street, London, WC2H 7JB (venue info)
Directions
Rotterdam photos
Performance Times