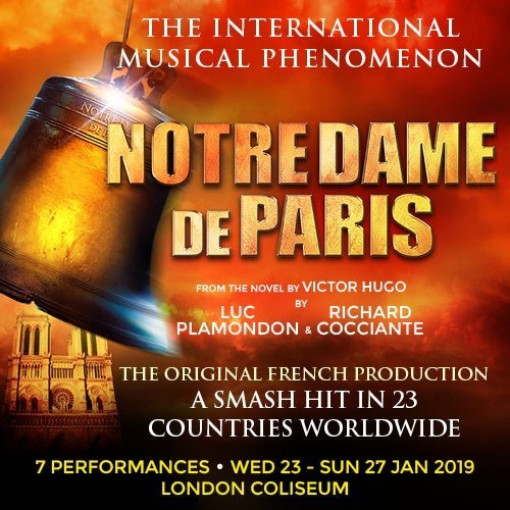 Notre Dame de Paris
4.9/5
based on 8 reviews
(read reviews)
Booking until: Sunday, 27 January 2019
Notre Dame de Paris description
The London Coliseum is your venue for an exceptional piece of musical theatre, namely Notre Dame de Paris, arriving in the capital during early 2019 and already keenly anticipated by musical theatre lovers.
This glittering masterpiece takes to the stage in January 2019 for just seven performances, indicating just how popular and desirable it is. The story has been thrilling people for twenty years so far, having toured 23 countries and been translated into nine different languages. If this isn't a legend in the making, we're not sure what is!
It's also a record breaker. The Guinness Book of Record confirms this musical had the most successful first year of any musical, ever. And Notre Dame de Paris is a seriously stylish piece too, exactly what you'd expect from Victor Hugo, the man who also created the story on which Les Miserables is based. But there's more. France's third-biggest-selling chart single comes from the show too, the stunning tune 'Belle'.
Notre Dame de Paris has already filled the house in theatres across Belgium, the USA, Canada, China, France, Italy, Japan, Lebanon, Luxembourg, Russia, Singapore, South Korea, Spain, Switzerland, Taiwan and Turkey. This time around, in theatreland, it'll be performed in French with English subtitles.
Inspired by Victor Hugo's novel The Hunchback of Notre Dame, this production is widely felt to be the most accurate version of it, the most faithful to the author's intentions. And it is, of course, the same book that inspired Phantom of the Opera.
This is the story of the unfortunate cathedral bell-ringer Quasimodo and his unrequited love for a beautiful gypsy girl, the dancer Esmeralda. A potent mix of French and Québécois influences, it enjoyed its début in 1998 in Paris, and proved an instant hit.
If you'd like to experience for yourself an internationally acclaimed cast of brilliant singers, dancers and acrobats, supported by a large live orchestra, this one's for you. The show tunes are composed by Richard Cocciante with lyrics by Luc Plamondon. And there are a total of 53 songs to rock your world. Fabulous!
Playing at London Coliseum
St Martin's Lane, London, WC2N 4ES GB (venue info)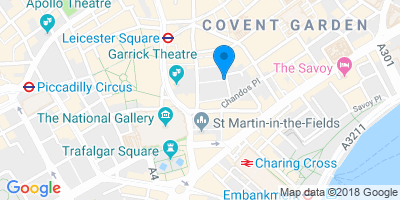 Directions
Age restrictions
No under 6s
Important information
The original French production will be performed in London with English surtitles.
Performance Times
Notre Dame de Paris video