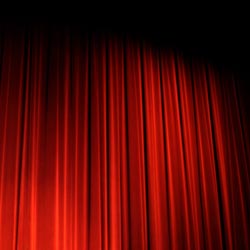 Merrily We Roll Along
5/5
based on 1 review
(read reviews)
Booking until: Saturday, 9 March 2013
Merrily We Roll Along description
Merrily We Roll Along – Sensitive, off-beat and wonderfully poignant
Welcome to Merrily We Roll Along! Kaufman and Hart authored the original play, which in turn inspired songwriter Stephen Sondheim and George Furth's version of an unusual and moving story, following the complex relationships between three close friends. Like all the best stories, their passage is far from smooth.
Take one musician. Add a lyricist and stir in a writer. The starring trio are called Franklin, Charley and Mary and they first became friends in the 1960s. More than three decades later they're still friends, but a great deal of water has passed under the bridge and their relationships are profoundly different. Starting in 1980 the action moves steadily backwards in time to reveal the disappointments, misplaced idealism and trials that changed their outlooks over the years.
It's a recipe for fine theatrical entertainment, especially with the numerous costume changes to denote the passing decades: the mini-skirted and flared 1960s, over the top brashness of 1970s fashion and the excesses of the '80s.
The players take you on an emotional rollercoaster of a ride back in time through hedonism, wealth, betrayal and suffering, stripping the characters bare of their adult sophistication as the play proceeds back in time to reveal their younger, softer, more innocent 1960s selves.
It's a play that leaves you happily heartbroken. Sondheim's sensitive, memorable tunes support the action with hits including Good Thing Going, Not a Day Goes By, Old Friends and more bringing the action into focus, adding depth and meaning.
It's occasionally sharp, often sad and always fascinating as you burrow deeper into the past with every scene. The themes of lost love, disillusion, bad luck, failure and tragedy are clear throughout the play, making the whole compelling and unforgettable.
The talented Director Maria Friedman makes her debut with this off-the-beaten-path production, delivering a real feast for the senses as well as a tough work-out for your emotions.
Want to book Merrily We Roll Along cheap tickets? We're your first stop for a great choice of ticket and seat options including the best in the house and bargain tickets.
Playing at Menier Chocolate Factory
51 Southwark Street, London, SE1 1RU (venue info)
Directions