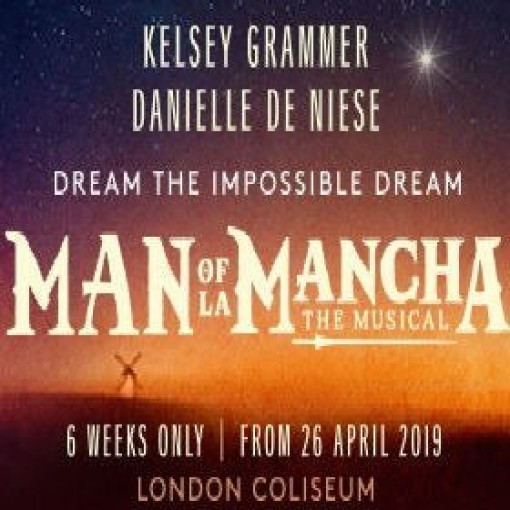 Man of La Mancha
Booking from: Friday, 26 April 2019

-


Booking until: Saturday, 8 June 2019
Man of La Mancha description
Man of La Mancha – A charming classic of a musical
The fantastic, hugely entertaining Tony Award-winning musical - Man of La Mancha - returns to the West End in 2019. This is the first time it's been in the capital for four decades. The musical is so well-loved it has been translated into numerous languages and dialects, including nine Spanish dialects, Bulgarian, Hungarian, Serbian, Slovenian, Swahili, Finnish and Ukrainian. And that's just to name a few.
The show is inspired by Miguel de Cervantes' original seventeenth-century novel Don Quixote, set during the Spanish Inquisition. The exceptional award winning American actor Kelsey Grammer leads the concert production as Don Quixote himself, and as Miguel de Cervantes. The Australian opera singer Danielle De Niese plays the prostitute Dulcinea. The musical is written by Dale Wasserman with music by Mitch Leigh and lyrics by Joe Darion. Expect a poignant, moving musical presented as a play-within-a-play and you won't be disappointed.
The musical is jam-packed with gorgeous show tunes, many of which have become classics since they were first played on stage in 1965. Man of La Mancha features wonderful tunes like The Impossible Dream, I, Don Quixote, Dulcinea, I Really Like Him, Little Bird and more. The show is presented by Michael Linnit and Michael Grade in collaboration with English National Opera, and it's set to play a strictly limited West End season from 26th April to 8th June 2019 at the London Coliseum
What's the plot? Miguel de Cervantes, a failed playwright, poet and tax collector, has tried to tax a monastery, and it has got him in deep trouble. Now he's in jail, arrested by the terrifying Spanish Inquisition, awaiting trial by a kangaroo court of fellow prisoners, a bunch of dodgy thieves, whores and murderers. When they try to steal his uncompleted manuscript, Cervantes and his servant decide to play out the story of Don Quixote and Sancho Panza to distract them.
Cervantes' tale of the old, eccentric man Alonso Quijana, who is convinced he's actually a knight errant, binds everyone in a spell as Quijana and his squire Sancho Panza set out on a journey to find the good and innocent in a dark, despairing world. The prisoners who listen are delighted by the fictional Don Quixote's transformation of a wretched prostitute into a gorgeous woman, and eventually come to understand how an old man's crazy beliefs really can turn him into a knight. Ultimately Cervantes' inspirational imagination leads them all to demand the return of the age of chivalry, determined to fight evil and right the world's many wrongs.
Kelsey Grammer's first Broadway musical was a brilliant revival of La Cage aux Folles, for which he was given a Tony award nomination. He had his London stage debut in 2017, in Big Fish. He also created the roles of Charles Frohman and Captain Hook in Broadway's smash hit Finding Neverland. Danielle De Niese has adored singing all her life. She won an Aussie TV talent competition Young Talent Time at aged 9 and never looked back. Her operatic skills have taken her around the world. Last but not least this epic production is directed by Lonny Price, who scored a huge hit with Lady Day at Emerson's Bar and Grill.
If you love to be charmed by musicals, grab tickets as soon as they come out. This one is charm itself.
Starring
Danielle De Niese, Kelsey Grammar
Playing at London Coliseum
St Martin's Lane, London, WC2N 4ES GB (venue info)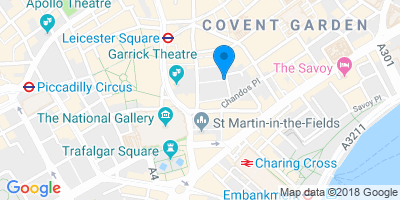 Directions
Important information
Danielle de Niese will perform on the following dates: 26 Apr 7.30, 27 Apr 2.30 & 7.30, 29 Apr 7.30, 30 Apr 7.30, 1 May 7.30, 2 May 7.30, 3 May 7.30, 4 May 2.30 & 7.30, 6 May 7.30, 7 May 7.30, 8 May 7.30, 9 May 7.30, 10 May 7.30, 11 May 2.30 & 7.30, 13 May 7.30, 14 May 7.30, 15 May 7.30, 16 May 7.30, 17 May 7.30, 18 May 7.30, 20 May 7.30, 22 May 7.30, 23 May 7.30, 25 May 7.30, 29 May 7.30, 30 May 7.30, 1 Jun 7.30, 4 Jun 7.30, 6 Jun 7.30
Cassidy Janson will perform on the following dates: 1 May 2.30, 8 May 2.30, 15 May 2.30, 21 May 7.30, 22 May 2.30, 24 May 7.30, 25 May 2.30, 28 May 7.30, 29 May 2.30, 31 May 7.30, 1 Jun 2.30, 3 Jun 7.30, 5 Jun 2.30 & 7.30, 7 Jun 7.30, 8 Jun 2.30 & 7.30
Performance Times