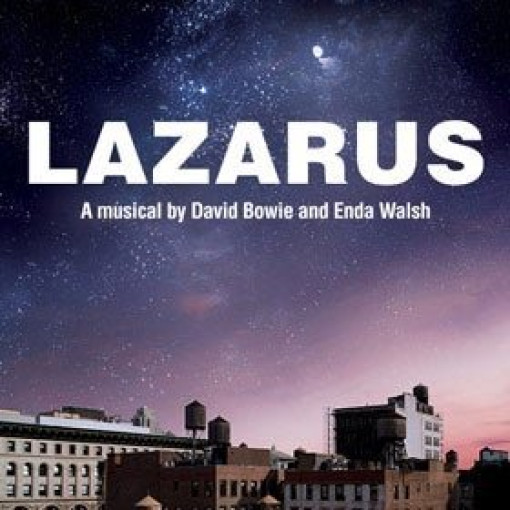 Lazarus
Booking until: Sunday, 22 January 2017
Running time: 2 hours
Lazarus description
The musical shares its name with a song on Bowie's final album, Blackstar, and it's the stage version of a story revealed in the 1976 movie The Man Who Fell to Earth, Nicolas Roeg's remarkable film inspired by Walter Tevis' extraordinary 1963 novel, a story created way before its time.
What can you expect? First of all a musical experience second to none, stuffed with epic Bowie tunes from every decade. There are 20 songs in all, from older works to brand new songs from Blackstar, No Plan, Killing A Little Time and When I Met You. Second, a production that won rave reviews in New York and completely sold out over there in just a few hours. As the producer Robert Fox said to the Evening Standard about Bowie's final masterwork, "His songs have another life than the life he intended them to have. He wanted to have for a long time what he called a 'theatre play with music' … He always wanted to write musicals".
What's the story? Lazarus stars Thomas Newton, the alien character portrayed by David Bowie himself in the 1976 movie. The alien arrives on our planet in search of water, which his home planet is literally dying for. But he ends up being captured and experimented on by the Government. He's totally miserable, tormented by visions of his dying family. When a mysterious girl promises to help him escape, he leaps at the chance. But things aren't what they appear, and a dark threat lurks in the background.
The book and lyrics come from Bowie and Enda Walsh. It's directed by Ivo van Hove. The beautiful sets and lighting come from Jan Versweyveld and the costumes are by An D'Huys. Video comes courtesy of Tal Yarden, the sound is by Brian Ronan, the choreography is by Annie-B Parson and dramaturgy from Jan Peter Gerrits.
Lazarus the musical was first performed in New York's Manhattan during late 2015, and much of it was kept a close secret right up until the first preview in November of that year. It opened on 7th December 2015, with Bowie himself making his final personal appearance at the event, and was quickly extended for a longer than expected run. Subsequently, New York's mayor declared the final day of the musical's run there, 20th January 2016, David Bowie Day.
What can you expect? The signs are looking good. Pundits say the show's much anticipated London 2017 transfer will be just as much of a smash hit as it was in the Big Apple, and the excitement is mounting fast.
Lazarus tickets – Experience David Bowie's stage masterwork
If you'd like to buy Lazarus cheap tickets we sell every type of ticket, from bargain to top of the range, all with excellent availability.
Playing at King's Cross Theatre (South Entrance)
King's Boulevard by Battlebridge Place, London, N1C 4UR GB (venue info)
Directions
Lazarus photos
Age restrictions
The performance is suitable for children aged 12 and older. Children under 8 years old will not be admitted.
Important information
All ticket holders should arrive at least 45 minutes prior to the start of the performance to allow time for venue staff to verify tickets and conduct bag searches.
All ticket holders are required to bring valid photo ID, such as a passport, identity card, or British driving license. You may not be admitted without valid photo ID.
Performance Times
Similar shows