Landscape / A Kind of Alaska
4/5
based on 1 review
(read reviews)
Booking until: Saturday, 8 December 2018
Landscape / A Kind of Alaska description
Ten years ago we lost Harold Pinter, probably the nation's best-loved, best-respected playwright, a legend in his own lifetime and a highly skilled, fearless social commentator. The time's ripe for a celebration of the great man's life, and The Jamie Lloyd Company has stepped into the breach. The result is a smashing season of seventeen Pinter one-act plays across seven unique producrions, not to be missed. Welcome to Landscape and A Kind of Alaska.
In Landscape, a play originally produced on radio in 1968, a married couple have difficulty communicating. In typical Pinter style, the language is the star of the show as the two characters converse with one another but, oddly, can't seem to actually hear each other. Clever stuff. The dialogue ends up as two separate monologues, something many a couple has experienced for themselves!
A Kind of Alaska was written in 1982, inspired by the neurologist and author Oliver Sacks' extraordinary book Awakenings. The star of the show is middle-aged Deborah, who awakes from a coma after thirty years to find herself a person with the brain of a teenager trapped in the body of a much older woman. While her loving family tries to ease her back to reality, they also want to protect her.
If you know his work you'll already understand that Pinter can be brutal, cruel, frightening, and quite merciless in his observations of the human condition, of human nature. But these two plays, while disturbing and thought-provoking in a typical Pinter way, are gentler, dreamier, slower, a couple of spellbinding evocations that deeply examine loneliness, isolation and the uncanny way time contracts one moment, then completely runs away with us.
Jamie Lloyd knew Pinter well, loved his work and produced plenty of it before the playwright's death, so this is a tribute that really matters, rich in personal involvement and produced with affection and respect. The Pinter at the Pinter season celebrates the great man's work from September 2018 to February 2019 and it's set to light theatreland up like fireworks.
If you adore the Pinter way of looking at the world and enjoy having your thoughts well and truly provoked in the most marvellous way, grab tickets for all seven productions and enjoy the theatrical and intellectual experience of a lifetime. Anyone over 16 will get a kick out of it.
Starring
Tamsin Greig
Playing at Harold Pinter Theatre
6 Panton Street, London, SW1Y 4DN GB (venue info)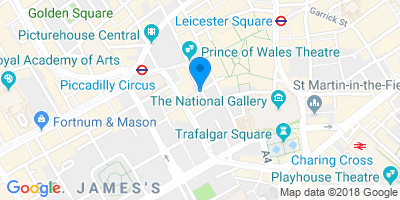 Directions
Performance Times
Landscape / A Kind of Alaska video