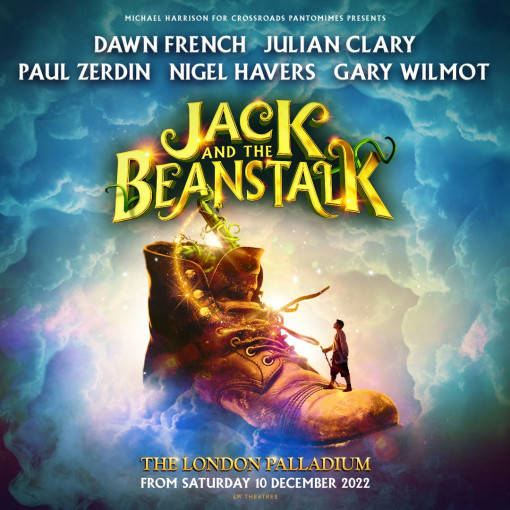 Jack and the Beanstalk
Opens: Saturday, 10 December 2022

-


Booking until: Sunday, 15 January 2023
Running time: 2 hours 15 mins (including interval)
Jack and the Beanstalk description
Jack and the Beanstalk – Perfect Xmas panto fun!
Christmas in the West End is always amazing. This time around it's going to be even more fantastic than usual thanks to a brand new spectacular pantomime. Welcome to Jack and the Beanstalk, a classic children's story told in a bold and thrilling new way at the capital's premier pantomime venue, the London Palladium. So who is involved?
We're predicting a truly spectacular production. The Director is Michael Harrison. The cast list so far includes experienced panto stars Julian Clary, Paul Zerdin, Nigel Havers, Gary Wilmot, and Dawn French, which means it's going to be funny as well as amazing to look at. The creative team speaks for itself, studded with stars in their own right: the Design is by Mark Walters and the Costumes by Hugh Durran. The Choreography comes from Karen Bruce and the Lighting is by Ben Cracknell, and the sound is by Gareth Owen.
What's the story behind Jack and the Beanstalk?
Jack and his mum are very poor. They decide to sell their cow at the market to raise some money. A stranger convinces young Jack to swap the cow for magic beans instead of going to the market. Jack's mum is angry and throws the magic beans away. The rain waters them overnight and they grow into a vine that disappears up into the clouds. Jack climbs the beanstalk, discovering a terrifying giant and his giantess wife. They're keen to eat Jack but he escapes, taking some of the giant's treasure with him.
About Jack and the Beanstalk
The London Palladium is the venue for annual Xmas pantos in London. Jack and the Beanstalk is on stage there from 10th December 2022 to 15th January 2023. This is all set to be London's biggest Xmas panto... ever, a five week run you'll want to experience for yourself.
The Palladium is a huge venue where you really feel you're part of an enormous, happy crowd, something that adds even more atmosphere to the occasion. A huge animatronic giant is going to be one of the stars of the show in this magical £2 million production. This is your West End Christmas, and it's going to be very cool indeed. Your children will be talking about this one for years to come.
Buy tickets for Jack and the Beanstalk
Buy tickets for Jack and the Beanstalk from us and enjoy simple, efficient service. We'll email your e-tickets to you – just present them at the door on the day.
Starring
Dawn French, Julian Clary, Nigel Havers, Paul Zerdin, Gary Wilmot
Playing at London Palladium
8 Argyll Street, London, W1F 7TF GB (venue info)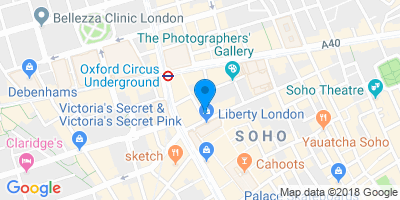 Directions
Performance Times