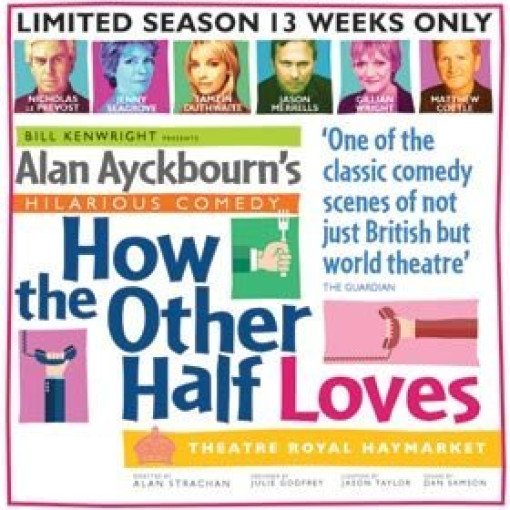 How The Other Half Loves
4.4/5
based on 54 reviews
(read reviews)
Booking until: Saturday, 25 June 2016
How The Other Half Loves description
What goes on? You'll meet three couples, the male halves of which all work for the same company and whose inter-relationships are horribly complicated. One of the younger fellows, Bob, is deep into a love affair with Fiona, the wife of the eldest. They're forced to lie through their teeth when caught out returning home suspiciously late, and have to make up stories about helping the third couple through a sticky patch in their relationship.
The action takes place across two separate living rooms, which make up the stage set, and they're separated by a dining room in which some of the action also takes place. The resulting farce is painfully funny, as the shared dining room takes on a character of its own and the third couple, poor, innocent William and Mary, are hopelessly stuck in the middle, falsely accused of adultery and totally baffled by the whole thing.
The plot culminates in a couple of totally disastrous dinner parties, held on successive nights but shown at the same time on stage. The emotional carnage that ensues is hilarious, and all three couples end up in a horrible emotional tangle. No wonder it's such a popular farce.
Expect a run of complications that make the tale of matrimonial mishaps even more complex, and you won't be disappointed. This first major West End revival is directed by Alan Strachan. The Olivier Award nominee Nicholas Le Prevost plays opposite Jenny Seagrove, best known as QC Jo Mills in the TV series Judge John Deed and an Ayckbourn fan herself, having starred in the playwright's Absurd Person Singular at the Garrick in 2007.
Jason Merrells, of TV's Lark Rise to Candleford, Cutting It and Waterloo Road fame, stars alongside Tamzin Outhwaite, Matthew Cottle from Game On and Eastenders' Gillian Wright. If you're looking for a top quality story of social graces and personal misunderstanding, it's the perfect theatreland choice for 2016.
How The Other Half Loves tickets – Ayckbourn at his brilliant best
If you'd like to buy How The Other Half Loves cheap tickets we sell every type of ticket, from bargain to top of the range, all with excellent availability.
Starring
Tamzin Outhwaite, Nicholas Le Prevost, Jenny Seagrove
Playing at Theatre Royal Haymarket
8 Haymarket, London, SW1Y 4HT (venue info)
Directions
How The Other Half Loves photos
Performance Times