35% off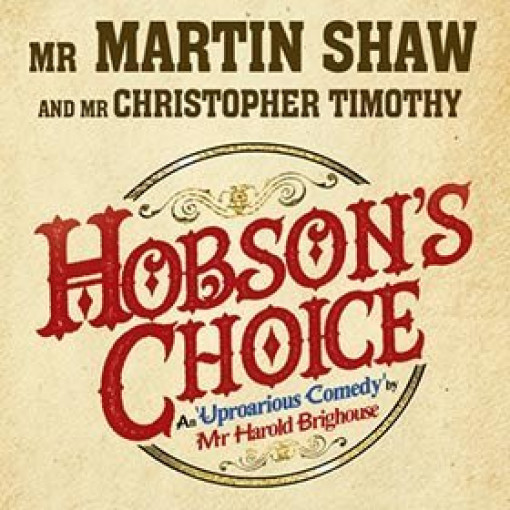 Hobson's Choice
4.5/5
based on 33 reviews
(read reviews)
Booking until: Saturday, 10 September 2016
Running time: 2 hours and 10 minutes
Hobson's Choice description
After the original production in 1915 the play transferred to London in the summer of 1916 and delighted war-weary audiences at the Apollo Theatre. It was such a success it transferred to another London venue, the Prince of Wales Theatre, later that year.
Since then it has been adapted several times for the movies, and also became a popular Broadway musical. In 2011 Sheffield's famous Crucible Theatre staged a revival, directed by Christopher Luscombe and starring Barrie Rutter, Zoe Waites and Philip McGinley.
What can you expect? The action takes place in Salford, now in Greater Manchester, during the year 1880. If you spot similarities with the plots of both Cinderella and King Lear, you're right. There's a dead mother and three daughters, two frivolous and beautiful, one a hard working intellectual. There's even a fairy godmother in the shape of Mrs. Hepworth. And it stars one of the best-loved and respected comic characters in English drama, Henry Hobson himself.
Here's a brief out line of the plot. The shopkeeper Henry Horatio Hobson is a self-made man and proud of his achievements as the owner of a thriving shoe shop. But he's also as tight as it gets, a real skinflint and a drunk to boot. He bullies his daughters mercilessly and when his eldest daughter Maggie marries bootmaker and employee Will Mossop without her father's blessing or permission, an epic battle of wills begins.
Will Hobson end up losing all his customers in his determination to get his own way? He's certainly in line to lose his daughters and his pride. Ultimately, it's a classic Hobson's choice: will he take it or leave it? The resulting comedy is warm, funny and witty, a classic loved by everyone who experiences it.
The star of the show, playing Hobson himself, is British actor Martin Shaw, TV's Inspector George Gently and Judge John Deed, and heart-throb of the top 1970s cop drama The Professionals. On stage he's wowed audiences with his role in Saturday, Sunday, Monday, on stage opposite the legendary Laurence Olivier. He's been nominated for a Tony award thanks to An Ideal Husband on Broadway, and has won a coveted Drama Desk award. More recently he's played in the West End hits A Man for All Seasons and Twelve Angry Men.
The Times newspaper says it delivers, "Tip top performances, high production values, EXTREMELY WELL DONE." And the Telegraph says Shaw is in "superb form", calling it a delightful production. The signs are excellent, hinting at a classic not to be missed.
Hobson's Choice tickets – The 100 year anniversary of a hugely popular play
If you'd like to buy Hobson's Choice cheap tickets we sell every type of ticket, from bargain to top of the range, all with great availability and backed by superb service.
Starring
Martin Shaw
Playing at Vaudeville Theatre
404 Strand, London, WC2R 0NH (venue info)
Directions
Hobson's Choice photos
Hobson's Choice cheap tickets
Save 35%
Was £58.00 Now £37.50
Valid on Monday - Friday performances from 8 August to 10 September 2016.
Age restrictions
Suitable for 12+
Performance Times