53% off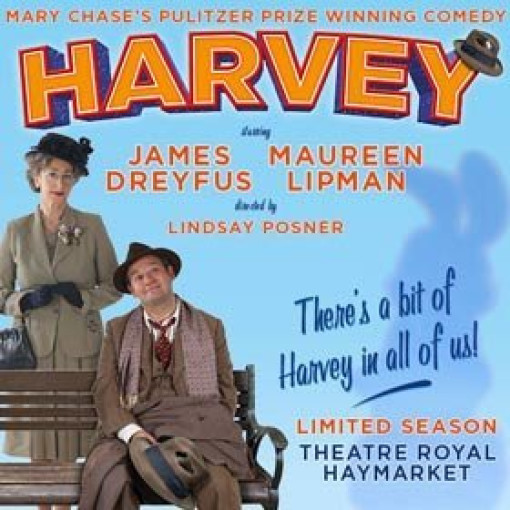 Harvey
4.4/5
based on 7 reviews
(read reviews)
Booking until: Saturday, 2 May 2015
Harvey description
The play first hit the boards on Broadway the same year it was written. The 1950 film starred the gentle Hollywood giant James Stewart. He immortalised the story and it fast became world-famous. Now the Olivier Award winner and hugely popular actor James Dreyfus of Gimme Gimme Gimme fame stars in the latest version of Mary Chase's unforgettably funny and charming play.
Directed by Lindsay Posner, Harvey also stars the wonderful Maureen Lipman. Dreyfus plays the mild mannered, eccentric Mr Elwood P. Dowd himself in the infamous tale of one man's satisfying friendship with an invisible six foot rabbit whose many skills include the ability to stop time.
What's the story? Fed up with the embarrassment she feels her brother is causing, Elwood's sister Veta tries to save the family's reputation. She takes her 'delusional' brother to see a handsome young psychiatrist, Dr William Chumley, who flirtatious behaviour put her off her stride.
Increasingly flummoxed, she admits having seen the rabbit herself now and again. Chumley eventually commits the incredibly anxious Veta instead of her brother, kicking off a whirlwind of family chaos as everyone involved tries to catch the missing Elwood and his large, long-eared friend.
What happens when Dr Chumley also starts seeing the rabbit? Wait and see... you're going to fall in love with this gorgeous comedy of errors.
The production takes place at the Theatre Royal Haymarket after a highly successful premiere at the Birmingham Repertory Theatre. Dreyfus and Lipman are joined by David Bamber, Desmond Barrit, Felicity Dean, Ingrid Oliver, Amanda Boxer, Sally Scott, Youssef Kerkour, Jack Hawkins and Linal Haft.
This excellent version is produced by Don Gregory For Harvey West End Ltd in association with Birmingham Repertory Theatre. The designer is Peter McKintosh, lighting is by Howard Harrison and sound by Paul Groothuis.
Harvey tickets – Treat yourself to a classic comedy
If you'd like to buy Harvey cheap tickets, we have the full range of seating types on offer, from low cost to premium, all with excellent availability. How can you resist?
Playing at Theatre Royal Haymarket
8 Haymarket, London, SW1Y 4HT (venue info)
Directions
Harvey photos
Harvey cheap tickets
Save 38%
Was £56.50 Now £35.00
Valid Monday-Saturday evening and Thursday matinee performances until 2 May 15
Save 32%
Was £36.50 Now £25.00
Valid Monday-Saturday evening and Thursday matinee performances until 2 May 15
Save 53%
Was £21.50 Now £10.00
Valid Monday-Saturday evening and Thursday matinee performances until 2 May 15
Age restrictions
Suitable for 8+
Performance Times