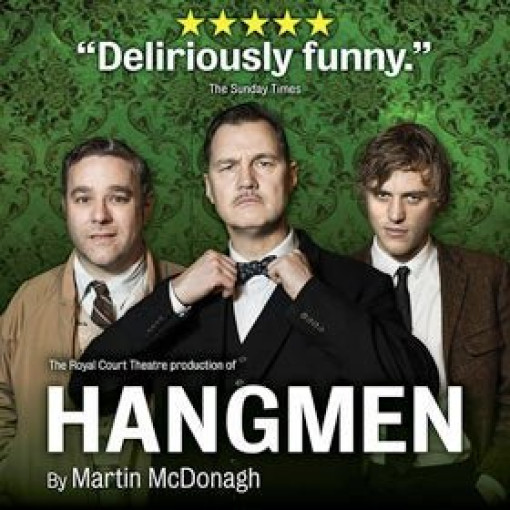 Hangmen
4.1/5
based on 21 reviews
(read reviews)
Booking until: Saturday, 5 March 2016
Hangmen description
The production transfers to Wyndham's for a strictly limited season, following an impressive sell out run at the Royal Court theatre. So what's all the fuss about?
Harry is a minor celebrity, an extremely minor one, the toast of his local pub in Oldham. He's the nation's second-best hangman and thoroughly enjoys his notoriety. But what will happen to Harry when England abolishes hanging, and how will he feel about it?
Plenty of people want to know, and Harry is suddenly surrounded by a mob of press reporters and sycophantic fellow pub regulars, all of whom are keen to establish what he thinks about the situation. But in a corner, out of the way of the scrum, a weird stranger lurks, and his motive for visiting Harry is completely different... The resulting drama is absolutely hilarious.
Matthew Dunster directs the show and original members of the cast David Morrissey and Johnny Flynn carry on the good work. It's on at Wyndham's between 1st December 2015 and 5th March 2016, and it's strongly tipped to become a firm favourite on the theatre circuit.
Martin's McDonagh has excellent reputation, the creator of a string of hugely popular plays including The Beauty Queen of Leenane, The Cripple of Inishmaan, The Pillowman and The Lieutenant of Inishmore. He's no stranger to the National Theatre, an accolade in itself, and his work is loved the nation over for its deliciously, painfully dark humour.
He's also big on film, writing and directing silver screen masterpieces like the remarkable In Bruges and the equally disturbing Seven Psychopaths. He's attracted an Olivier Award for Best New Comedy, an Olivier, an Academy Award and a BAFTA, spanning the full complement of awards across the stage and big screen.
What are the critics saying? The Daily Telegraph calls it 'The most line-by-line funny show London has seen in years'. The Sunday Times says it is 'Riveting from start to finish'. The Independent says the play is 'Drop dead hilarious' and Time Out concurs, exclaiming that it's 'Unquestionably, the funniest and most entertaining play in London right now'. Add The Observer's comment, 'Gives new meaning to the swinging 60s' and it's clear there's something very special going on'. Don't miss it!
Just a couple of things to consider – Bear in mind the play comes with strobe lighting, smoking and haze. And remember it's recommended for people aged 14 and over.
Hangmen tickets – An all-time stage and screen classic
If you'd like to buy Hangmen cheap tickets we sell every type of ticket, from bargain to top of the range, all with excellent availability.
Playing at Wyndham's Theatre
32-36 Charing Cross Road, London, WC2H 0DA (venue info)
Directions
Hangmen photos
Age restrictions
Suitable for ages 14+
Performance Times