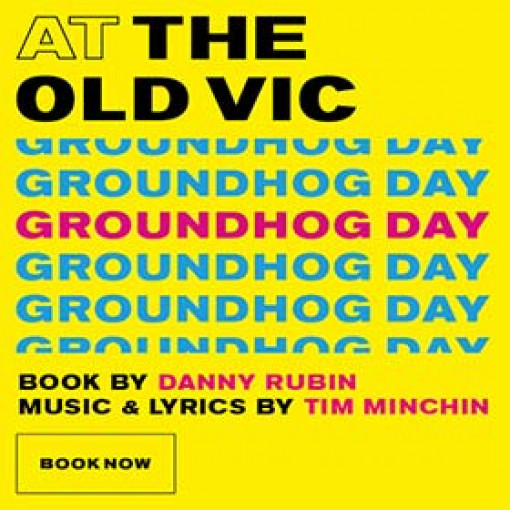 Groundhog Day
4.9/5
based on 8 reviews
(read reviews)
Booking until: Wednesday, 7 September 2016
Groundhog Day description
Groundhog Day tells the tale of the cynical TV weatherman Phil Connors, based in Pittsburg, USA. When he's tasked with covering the annual Groundhog Day celebrations in the tiny, remote town of Punxsutawney in Pennsylvania for the fourth time running, he suddenly finds himself in a curious and exasperating time loop. Compelled by strange forces to relive the same day time and time again, Phil is driven to the end of his tether, to the point of madness.
As day after day repeats itself in exactly the same way, Phil eventually realises there's a point to his weird time travel experiences. Does he learn his lesson, discover the secret and break the cycle?
Directed by Matthew Warchus, with music and lyrics by the hilarious, multi-talented comedian Tim Minchin, there are strong echoes of Matilda the Musical, again boding well for this new production. The choreographer Peter Darling and designer Rob Howell are also involved, a total of four ex-Matilda geniuses collaborating with top writer Danny Rubin to create a stage homage to the movie.
Andy Karl is set to play the starring role as Phil, and he's no stranger to glittering stage success. He's helped to bring Broadway happily to its knees with On the Twentieth Century, Rocky, The Mystery of Edwin Drood, Jersey Boys, Wicked, 9 to 5, Legally Blonde, The Wedding Singer and Saturday Night Fever and more. Wow.
There's more to Groundhog Day than the movie. It's an old tradition marked by French Canada's Jour de la Marmotte, and the Pennsylvanian Grundsaudaag or Murmeltiertag, a holiday celebrated on 2nd February each year.
The idea is this: if a groundhog – a real creature – pops out of its cosy burrow on the big day and it's cloudy, spring will arrive early, before the equinox. If it's sunny when the beast emerges, the groundhog apparently sees its own shadow and decides to stay in its den for a bit longer, which means there's another six weeks of winter in the pipeline. It's folklore, of course, but people use it as an excuse for celebrations on the day.
In south eastern Pennsylvania it's a big deal, with food served, speeches made and plays put on. As you can imagine the tradition gathered a lot more momentum thanks to the movie, and it'll probably become even more widespread thanks to this West End version of the story.
Groundhog Day is due to play a strictly limited ten week season from 11th July to 17th September 2016. Grab tickets while you can!
Groundhog Day tickets – The stage version of a well-loved comedy movie
If you'd like to buy Groundhog Day cheap tickets we sell every type of ticket, from bargain to top of the range, all with excellent availability.
Playing at Old Vic Theatre
103 The Cut, London, SE1 8NB (venue info)
Directions
Groundhog Day photos
Age restrictions
Recommeded 12+
Performance Times