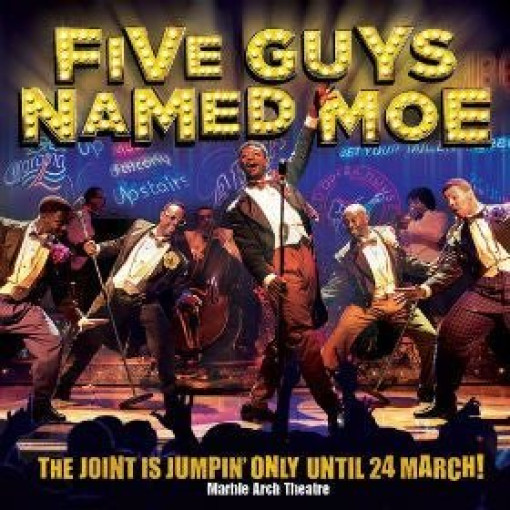 Five Guys Named Moe
4.7/5
based on 32 reviews
(read reviews)
Booking until: Saturday, 24 March 2018
Five Guys Named Moe description
This is a very special revival of Clarke Peters' Olivier Award winning classic, twenty five years old this year and a veteran of the West End as well as Broadway. It showcases Louis Jordan's greatest, most lively and best-loved jazz hits in a fresh show that celebrates the Olivier award-winning musical to perfection. The official opening takes place on 14th September and the show runs until late November.
The interior of the theatre has been designed to deliver the look and feel of a genuine 1940s New Orleans jazz bar, complete with an authentic-feeling cocktail bar to enjoy before and after the show, and the music is played to perfection by a jazz band so good you'll remember this production for years to come.
What's the plot? Nomax is newly single and down on his luck, on a drinking binge to wash away his sorrows. But on one crazy night, Five Guys Named Moe - Big Moe, Little Moe, Eat Moe, Know Moe and Four-Eyed Moe – turn up to help him party his way back to the good life. The soul, blues, jazz and gospel soundtrack is epic, and the show is well loved as a life-affirming theatrical experience.
The action takes place against a backdrop of brilliant tunes including Is You Is Or Is You Ain't My Baby, Early In The Morning, Choo Choo Ch'Boogie and loads more. The show is being directed by Clarke Peters himself with musical staging and choreography by Andrew Wright, who has been deeply inspired by Charles Augins' amazing original choreography. The set and costume designs are by Takis, the atmospheric lighting by Philip Gladwell and the wonderful sound design by Ben Harrison.
It's cool. It's sharp. It's exciting. How often do you get to attend a venue created especially with the show playing there in mind? If you're looking for a West End experience with a difference, it's perfect.
Playing at Marble Arch Theatre
Marble Arch Theatre, Marble Arch, London, W1C 1CX GB (venue info)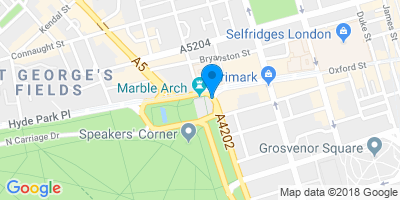 Directions
Important information
Please note: All tickets for Five Guys Named Moe will include a souvenir programme (worth £10) that will be handed out on arrival.
Performance Times
Five Guys Named Moe photos
Five Guys Named Moe video