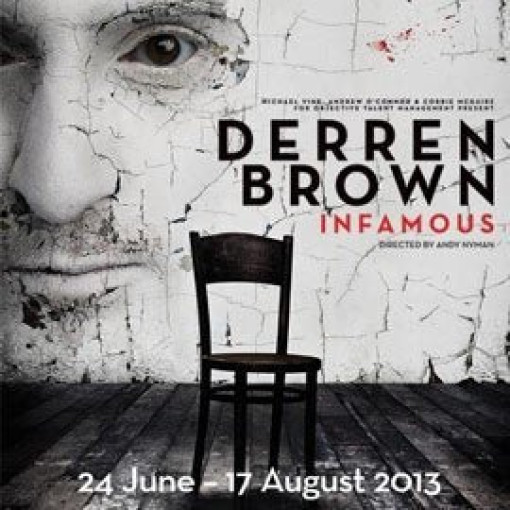 Derren Brown: Infamous
4.8/5
based on 11 reviews
(read reviews)
Booking until: Thursday, 15 August 2013
Derren Brown: Infamous description
Derren Brown Infamous tickets – Blow your mind!
How does he do it? Derren Brown has been amazing audiences with his unique brand of weirdness, science, illusion, observation, psychology, mentalism, humour, mind control and positive hoodwinkery for more than a decade.
He's known and loved for debunking the paranormal, cutting through the nonsense, manipulating our feelings and tricking our senses in such a delicate and skilful way we can't figure out how he does it. The resulting awards and accolades are testament to the man's unbeatable mental skills and abilities: the strange, weird and wonderful made flesh. We love it!
This latest show, in the West End following a sell-out national tour, follows on from the huge smash hits Mind Control, Trick of the Mind, Trick or Treat, Russian Roulette, Hero at 30,000 Feet and Derren Brown: The Experiments, the show that netted him a well-deserved BAFTA award for Best Entertainment Show in 2012. Hot on the heels of the sell-out show Svengali, Infamous is due to make his biggest splash yet.
It's great to see a performer obviously enjoying himself just as much as the audience, something which makes Olivier award-winning Derren Brown's stage and TV shows much more than averagely engaging. Apparently he enjoys the stage aspect of his work best of all… and it shows. It's unpredictable, unbelievable, impossible to deconstruct and the real deal every time, purest Brown at his best.
Just one caveat: because it includes considerable amounts of weirdness, the stuff nightmares are sometimes made of, this show isn't really suitable for children aged under twelve. If you're over twelve you can expect to be amazed, enthralled, mystified and not a little disturbed by this latest in a series of shows that have knocked the stuffing out of (and the socks off!) thousands of happy theatregoers. Wow.
If you're looking for Derren Brown Infamous cheap tickets you've found a great source, with the full range from bargain basement to premium price, all with excellent availability. That's what we call magic!
Playing at Palace Theatre
109-113 Shaftesbury Avenue, London, W1D 5AY GB (venue info)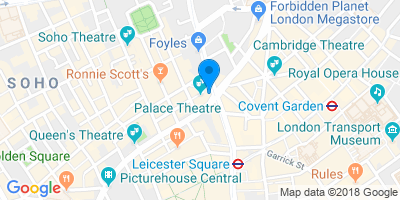 Directions
Age restrictions
Not suitable for Under 12s.
Performance Times