35% off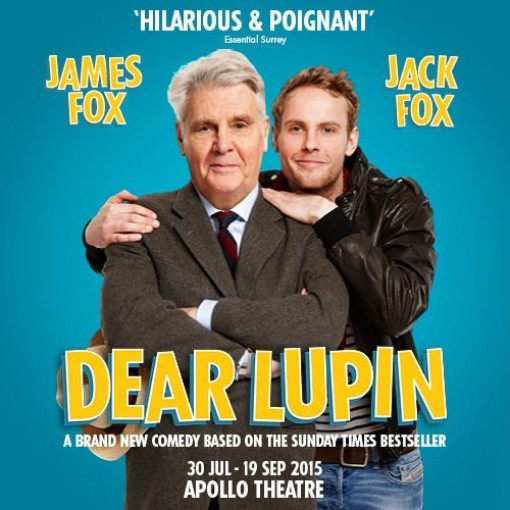 Dear Lupin
4.7/5
based on 12 reviews
(read reviews)
Booking until: Saturday, 19 September 2015
Running time: 2 hours 20 minutes
Dear Lupin description
Roger and Charlie Mortimer wrote the book, which covers their relationship during the 1960s and 1970s. Michael Simkins adapted it for the stage. Father and son James and Jack Fox take the starring roles. It's a recipe for success, and it's as witty, touching and nostalgic as it is hilarious. Welcome to the wonderfully quirky world of the Mortimers.
Anyone, of any age, will tap into this deliciously amusing production, packed with eccentric characters and crazy yet recognisable situations. It's inspired by almost a quarter of a century of correspondence between a father and his son, letters full of rich anecdotes, devilish observations and brilliant analogies.
The young man's letters to his father are rich in the tribulations of youth and early adulthood. The father replies with a gorgeous blend of humour, understanding and resignation. Roger Mortimer wrote more than 150 letters to Charlie over the years as he left school and embarked upon grown-up life in far-flung and exotic places like South America and Africa, and less exotic destinations like Weston-super-Mare and the big, bad city of London.
Together the letters form a warm, loving memoir of their relationship, and the very fact that the letters are 'real', written on paper and sent in envelopes rather than typed and sent by email, adds an extra layer of cosy nostalgia.
The book received a remarkable amount of critical acclaim from the press, proving its wide appeal. The Daily Mail said, "By turns exasperated, affectionate, touching and wry, the letters brim with a father's love for his son. An absolute delight." The Daily Telegraph said, "...this book makes you cry as well as laugh." The Sunday Times said "These hilarious missives from an eccentric father to an errant son have all the playful oddity of the Dear Bill letters." And The Telegraph says, "In an era when letter writing is a vanishing art form, this idiosyncratic collection from a father to his errant son is a delight."
A little piece of comedy gold, we think you'll adore this very special stage version of the book that delights everyone who picks it up. It's affectionate and poignant, wry and wise, insightful and inspiring. Give it a go and you'll come home inspired to write good, old fashioned letters to your loved ones, proving for yourself the extraordinary power of the written word.
Dear Lupin tickets – A delightful, deliciously entertaining production
If you'd like to buy Dear Lupin cheap tickets we offer the full range of seating types, from low cost to premium, all with excellent availability.
Starring
James Fox, Jack Fox
Playing at Apollo Theatre
31 Shaftesbury Avenue, London, W1D 7ES (venue info)
Directions
Dear Lupin photos
Dear Lupin cheap tickets
Save 35%
Was £70.00 Now £45.00
Valid all performances until 19 September 2015
Save 34%
Was £50.00 Now £32.50
Valid all performances until 19 September 2015
Save 30%
Was £40.00 Now £27.50
Valid on all performances 18 August to 19 September 2015
Save 23%
Was £20.00 Now £15.00
Valid on all performances 18 August to 19 September 2015
Age restrictions
Recommended for ages 14+
Performance Times