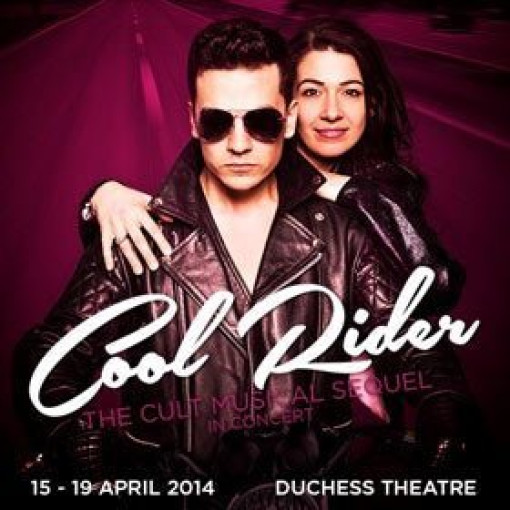 Cool Rider: The Cult Musical Sequel
3.7/5
based on 3 reviews
(read reviews)
Booking until: Saturday, 19 April 2014
Running time: 1 Hour 45 Minutes
Cool Rider: The Cult Musical Sequel description
What's the story? The musical looks at life two years after Grease the original, which was set at Rydell High School. Like the movie, it tells the story of two unlikely lovers and their journey along the road to happiness, following the couple through the bowling alley and burger joint, music-filled sex education lessons to a talent show, punctuated by extremely cleverly-lit motorbike rides.
Two years on, things have changed. The Pink Ladies are led by Stephanie Zinone, now bored of her affair with the arrogant T-Birds leader Johnny. There's a newly-arrived Brit and lead love interest in the shape of the clean cut Michael Carrington, a cousin of Olivia Newton John's Sandy character from Grease. But the road to romance never changes, and this time around it's as rocky as ever.
The moral of the tale? Much like Grease, it's all about the things you need to do to get the girl – or guy – of your dreams, high school romance at its best and a great nostalgic journey for people who enjoy a really good love story.
The concert enjoyed a genuinely rapturous reception when it raised its head briefly above the parapet for just two performances at the Lyric Theatre. Now it's on at the Duchess Theatre from April 15th to 19th 2014.
The cast? Ashleigh Gray as Stephanie and Michael Aaron Sidwell as Michael. A stellar creative team includes the talented Director Guy Unsworth, Musical Direction by Lee Freeman, Choreography by Matt Krzan, Design by Chris Wilmer and Lighting by Charlie Morgan Jones.
The song list features wonderful old hits like Who's That Guy?, Score Tonight, Cool Rider, Girl for all Seasons and the haunting Rock-a-Hula Luau (Summer Is Coming). You can expect a production that, while it pays homage to the movie, also delivers enough surprises to keep things fresh. It's a classic cinematic cult concert you'll be singing along to in your head for weeks afterwards, great fun and an exhilarating musical ride.
Cool Rider: The Cult Musical Sequel tickets – Grease 2 hits the stage
If you'd like to secure Cool Rider: The Cult Musical Sequel cheap tickets, we have the full range of seating types available, all with really good availability.
Playing at Duchess Theatre
3-5 Catherine Street, London, WC2B 5LA (venue info)
Directions
Performance Times