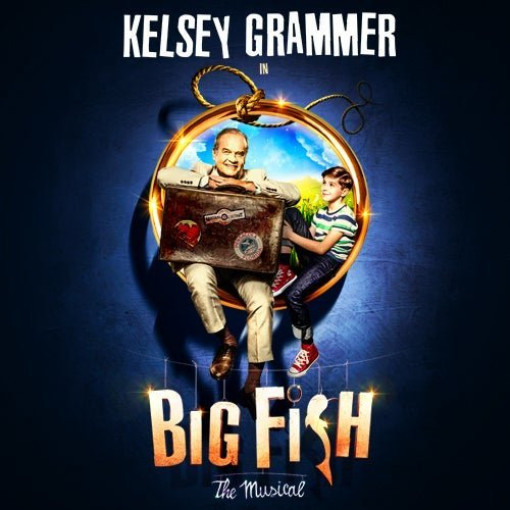 Big Fish
5/5
based on 4 reviews
(read reviews)
Booking until: Sunday, 31 December 2017
Big Fish description
What are you up to this Christmas? If you have children in tow, there's a very special seasonal treat in store for you in the shape of Big Fish the musical, the universally adored story by Daniel Wallace, complete with a new book by John August, who also wrote the screenplay for the film. Welcome to Big Fish, without a doubt the loveliest new family musical in theatreland.
Kelsey Grammer stars in this all-new stage production of John August and Andrew Lippa's beloved story, on stage for a strictly limited season this winter and delivering a fine Xmas experience to theatre lovers. The Other Palace is the lucky venue chosen for the show's London première, and it also marks Kelsey Grammer's London stage début.
The story? Introducing Edward Bloom, an ordinary bloke who just happens to be an extraordinary dad. He has always woven tall tales for his son, stories full of adventure and love, imagination and fun. But one day his boy demands to know the difference between truth and fiction, between reality and fairytales, and the question sends the pair on a magical journey. In the end they both realise the truth is a whole lot more wonderful than fiction...
At heart, Big Fish is a love story. It takes audiences on a thrilling journey right to the beating heart of humanity, cleverly mixing fairy-tale, romance and adventure to celebrate the real meaning of life. It reminds us that the love we feel for our friends and family lives on inside them, and stays there long after we've shuffled off this mortal coil.
The show stars Matt Seadon-Young as little Will Bloom, Frances McNamee as Josephine Bloom, Forbes Masson as Amos / Don, Jamie Muscato as Edward and Laura Baldwin as Sandra. Landi Oshinowo plays the Witch and Jenny Hill, Dean Nolan plays Karl and George Ure plays Zaki. Sophie Linder-Lee, Gemma McMeel and Jonathan Stewart join the fun. If you're looking for a festive treat in theatreland this winter, it's totally perfect.
Playing at The Other Palace (formerly St James Theatre)
12 Palace Street, London, SW1E 5JA (venue info)
Directions
Big Fish photos
Big Fish video
Performance Times