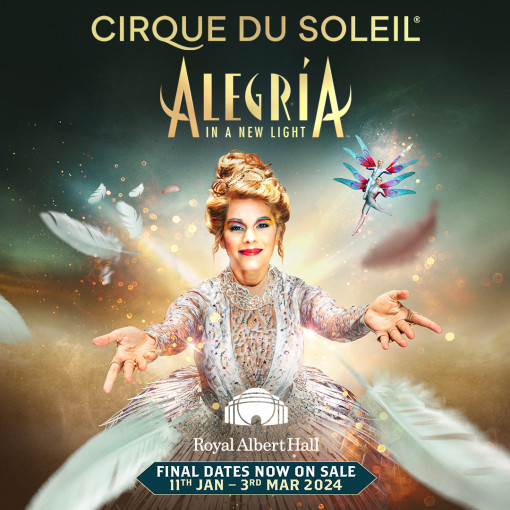 Alegria - Cirque du Soleil
Opens: Thursday, 11 January 2024

-


Booking until: Sunday, 3 March 2024
Running time: 2 hour 15 minutes (incl. interval)
Alegria - Cirque du Soleil photos
Alegria - Cirque du Soleil description
Cirque du Soleil Alegria – Awe-inspiring circus magic
If you've never wanted to run away to join the circus, this show will change your mind. Alegria, the 1990s Cirque du Soleil classic, has been recreated for a new generation. Set in the heart of a kingdom that has lost its king, Alegria reveals the power struggle between the old order and a new, younger movement focused on fresh hope and renewal.
The unforgettable soundtrack, which was Grammy-nominated, scored a huge hit in the Billboard Music Charts, staying there for 65 weeks. Expect thrilling acrobatics, astonishing costumes, breathtaking sets and playful humour as Alegria unfolds, providing a uniquely uplifting immersive experience full of magic and love. This is a quintessential Cirque du Soleil spectacle.
What's the story behind Cirque du Soleil Alegria?
Alegria is a touring production first created in 1994 by the director Franco Dragone and the circus's director of creation Gilles Ste-Croix. Named after the Spanish word for 'joy', it is utterly joyous. Premiering at Montreal in 1994, the show has been on stage at least 5000 times since then. Seen by over 14 million spectators in more than 250 cities around the world, it's due in the West End for a long-awaited season.
About Cirque du Soleil Alegria
Our good quality cheap theatre tickets for Cirque du Soleil Alegria reveal costumes designed to showcase the new order and the new. Old-style costumes are inspired by New York's golden era, while the softer, lighter costumes of the new order signal youth and freshness.
The soundtrack was composed by Rene Dupere, the composer of several earlier productions including Nouvelle Experience and Mystere. The studio album came out in September 1994, resulting in Grammy nominations, and Felix Award nominations followed in 1995. The album stayed in the Billboard World Music Chart for 65 weeks.
Cirque du Soleil - Circus of the Sun in English – is a Canadian entertainment company, now the world's biggest contemporary circus producer. Based in the centre of Saint-Michel, it was founded back in 1984 by the ex-street performers Guy Laliberté and Gilles Ste-Croix. The first official production Le Grand Tour du Cirque du Soleil, in 1984, proved a huge success, leading to the company being transformed into an actual circus. The famous theatrical, character-driven approach they take won hearts and minds, and to this day it remains the world's best-loved and best-known contemporary circus.
Buy tickets for Cirque du Soleil Alegria
Buy tickets for Cirque du Soleil Alegria from us and enjoy simple, efficient service. We'll email your e-tickets to you – just present them at the door on the day.
Playing at Royal Albert Hall
Kensington Gore, London, SW7 2AP GB (venue info)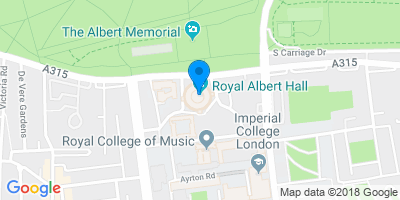 Directions
Age restrictions
All ages welcome
Performance Times