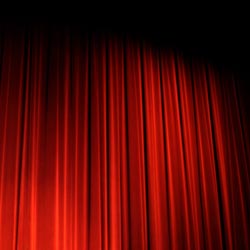 A Chorus of Disapproval
3.9/5
based on 25 reviews
(read reviews)
Booking until: Saturday, 5 January 2013
Running time: 2 hours 30 minutes
A Chorus of Disapproval description
A Chorus of Disapproval tickets – A comedy within a comedy
The Brits love their amateur dramatics societies, and they provide a rich vein of comedy. Audiences love a play within a play, and none more so than the marvellous A Chorus of Disapproval. It's a complex, convoluted and hilariously funny play crafted by the wonderful Alan Ayckbourn, which first hit the stage in 1984 and was made into a popular film in 1989.
The plot is cleverly woven around an amateur production of the Beggar's Opera, which is being brought to the stage by the fictional Pendon Amateur Light Operatic Society. Things have got off to a rocky start, and with the arrival of new cast member Guy Jones they get even rockier. He's an attractive chap who wins the attention of the director Dafydd ap Llewellyn and his wife, and acts as the catalyst for a series of backstage dramas that eventually completely overshadow the on-stage action.
It's a show packed with classic tunes, emotional drama, romantic rivalry and petty small town politics as Crispin gets into bed with Bridget, Guy and Hannah hit it off, Fay confronts Hannah and Linda and Bridget fight over Crispin's affections. What starts off bad gets worse and worse, until things become completely ridiculous… if you've waited all your life to see two adult women cat-fighting over a pair of men's underpants, you won't be disappointed!
A Chorus of Disapproval is tipped to become one of the biggest hits of the year in London's glittering west end, ideal for adults who enjoy a twisty-turny plot where almost everything that can do wrong, does. This is theatre at its best, with outstanding performances from all concerned and a sell-out run on the cards.
It's a good idea to book your A Chorus of Disapproval cheap tickets now, to make certain you don't miss this fresh take on an ever-popular Ayckbourn classic.
Starring
Rob Brydon, Nigel Harman, Ashley Jensen
Playing at Harold Pinter Theatre
6 Panton Street, London, SW1Y 4DN (venue info)
Directions