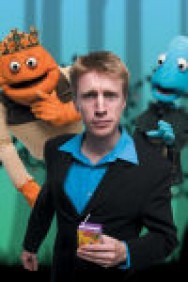 Sammy J In the Forest of Dreams

Tickets

Show Closed - This show has now closed.

Booking from: Tuesday, 28 July 2009
Booking until: Saturday, 1 August 2009
Running time: 120 minutes
Take the music of Disney, the drama of The Lord of the Rings and the emotion of Les Miserables. Then blindfold them, beat them, regain their trust, beat them again, and you might end up with something resembling this Edinburgh Festival hit show. Walt Disney gets his comeuppance in this skewed tribute to the tales of our childhood. Join Sammy, a cast of 14 puppets, toe-tapping music and award winning puppeteer Heath McIvor as they take you on a magical journey through the Forest of Dreams. Just leave the kids at home!