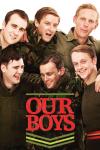 Back in 1993 Jonathan Lewis wrote an amazing play based on his own experiences in the Services. It was a huge hit, poignant and disturbing while at the same time hilariously funny. And it's back on the West End stage, a thought provoking and honest exploration of the tragedy of war.
Booking from: Wednesday, 26 September 2012
Booking until: Saturday, 15 December 2012
Matinees: Wednesday and Saturday 2.45pm
Evenings: Monday to Saturday 7.45pm

Playing at the Duchess Theatre.
Our Boys tickets – A tragi-comic tale of forgotten heroes
It's an award-winning and seriously potent blend of humour and tragedy, a tale of triumph in the face of adversity. Experience Our Boys and you'll never again complain about the little blows that life delivers. Based on the playwright's own experiences in the army, Our Boys is an uncomfortable blend of the tragic and side-splittingly funny that leaves audiences thoroughly shaken and stirred.
Inspired by the dark side of the services, with returning heroes all too often neglected and the wounded sidelined, this is a poignant and darkly humorous look at ordinary servicemen's experiences. Because British soldiers continue to give their all in terrifyingly dangerous foreign war zones, it's a play that's just as relevant now as it was back in the early 1990s, when it won a Best New Play award.
The plot? Five young wounded soldiers have been brought back to Blighty to recover from their injuries. The small band of men, while totally different characters, have formed a strong bond during their time together. They're bored silly with their everyday routine, a mind-numbing round of daytime TV, lonely hearts ads and the kind of brave banter that so often makes pain and distress bearable. But when a certain young officer arrives, the relative peace they live in is about to be smashed to pieces. Betrayal rears its ugly head, charges of misconduct are on the cards, accusations fly and the fighting soon begins in earnest.
Expect a top class production from the winning team who gave us the huge international stage hit Journey's End. It's the play's first West End production, and it's tipped to make a powerful impact.
Because there's some strong language and the play's themes are distinctly adult, it is recommended for people aged twelve upwards. Book your Our Boys cheap tickets now and treat yourself to a piece of seriously good stage entertainment with a serious side and some of the best British banter you'll come across this year!