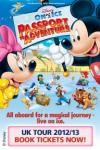 Make imagination your destination! Disney On Ice presents Passport to Adventure takes audiences on a fun-filled tour to four exciting destinations filled with favourite Disney friends.
Booking from: Friday, 28 December 2012
Booking until: Sunday, 6 January 2013
Matinees: 11am, 2.45pm, 3pm
Evenings: 6.30pm, 7pm

Playing at the Wembley Arena.

Make imagination your destination! Disney On Ice presents Passport to Adventure takes audiences on a fun-filled tour to four exciting destinations filled with favourite Disney friends. Join Mickey Mouse and Minnie Mouse on a journey into the magical worlds of Disney's The Little Mermaid, The Lion King, Peter Pan and Lilo & Stitch. Discover Ariel and Sebastian's enchanting undersea kingdom; visit the Pride Lands with Simba and Nala; soar through starry skies with Peter Pan and his sassy fairy friend Tinker Bell; and say 'aloha' to fun with Lilo and Stitch. You'll be captivated by the music, beauty and laughter in a journey so magical, you'll never want to go home.



PLEASE NOTE: TICKETS WILL NOT BE POSTED OUT UNTIL 2 WEEKS BEFORE THE EVENT