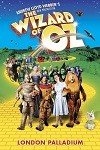 We're off to see... a magical stage adventure based on one of the best loved films of the twentieth century! It's The Wizard of Oz. Follow the yellow brick road to The London Palladium theatre for Andrew Lloyd Webber's breathtaking production of The Wizard of Oz and sing your heart out!
Booking from: Monday, 7 February 2011
Booking until: Sunday, 2 September 2012
Matinees: Wednesday and Saturday at 2:30pm, Sunday at 3pm
Evenings: Tuesday at 7pm, Wednesday to Saturday 7:30pm. From the 21st February Tuesday performances start at 7.30pm
Running time: 2 hours 45 minutes

Playing at the London Palladium.
Wizard of Oz tickets – A classic tale brought to the London stage!
Developed from the ever popular MGM screenplay, starring the lovely and tragic Judy Garland, The Wizard of Oz appeals to audiences of every age. It's a timeless story, which this production adapts perfectly for the stage.
You'll be glad to know, it contains all the much-loved songs from the Oscar winning film score. Expect the familiar iconic characters and events too. Plus a few new surprises along the way to add even more verve to a great tale. This is the most magical adventure of them all, the perfect family musical appealing to all ages and stages of life.
Andrew Lloyd Webber's adaptation is simply enchanting, re-conceived by a winning team of creative geniuses who delighted audiences with their revival of The Sound of Music. Click your heels together and join Scarecrow, Tin Man, Lion, Dorothy and Toto as they travel through the land of Oz to meet the Wizard and find their heart's desires. And watch out for the Wicked Witch of the West and her winged monkeys... the best bit of the film for countless children for the past fifty years - and just as magical under the lights on stage!
It's a fantastic musical treat for everyone. So book Wizard of Oz tickets now and treat the family, a bunch of friends or even your colleagues to something wonderfully familiar... but at the same time very different!
Please Note: Danielle Hope will perform as Dorothy until the 5th February 2012 and does not perform on Tuesdays. Runner up contestant Sophie Evans will perform on Tuesdays and from the 7th February. Russell Grant will play the Wizard from the 14th February.
Due to the high stage,stalls rows A and B are not suitable for children. Side stalls may be restricted view.
The Wizard Of Oz in the press
'A Wonderful Wizard of Oz, Danielle Hope's marvellous performance. She's perfect'
The Observer
'A show of genuine flair and imagination, sumptuously staged, a dream of a show'
Sunday Mirror
'Andrew Lloyd Webber finds new magic over the rainbow. A family musical with a gorgeous sense of spectacle'
Evening Standard