Frank Matchmam, architect of the Hyppodrome and the Coliseum built the Palladium Theatre following the site acquisition by the promoter Walter Gibbons around 1887. Prior to that, stood on the spot a large mansion that belonged to the Dukes of Argyll and Malborough which was demolished in 1965 by a firm of wine Merchants. The mansion was replaced by what was known as the Corintian Bazzar. From 1871 to 1887, the building was occupied by Charles Hengler's Circus and then functioned as an Ice Skating Ring.
The Palladium Theatre façade made of six Corinthian columns on tall pedestals and statues at the centre and either side of the roof could pass for a neo-Baroque temple. A seating capacity of over 2,300 also makes it the largest live theatre in London.
The Palladium Theatre opened on 26 December 1910 with programmes mixing farce, ballet, opera, melodrama, song and comedy. In 1912, under the management of Charles Gulliver the Palladium became home of spectacular revues. Variety was reintroduced under the management of George Black in 1928.
Val Parnell took over the management and Moss Empires the ownership. Parnell introduced variety bills topped by big American stars: Jack Benny, Ethel Merman, Danny Kaye, Bob Hope, Bing Crosby, Duke Ellington, and Frank Sinatra were some of the big names to appear on the Palladium Theatre Stage.
From 1979 to date, musicals have dominated the scene with productions such as Singin' In The Rain, Joseph and the Amazing Technicolor Dreamcoat and best loved musical Chitty Chitty Bang Bang! In 2005 Sinatra was resurrected with a musical of his name for a limited run!
Today, the Palladium Theatre is the new home for Andrew Lloyd's Webber musical, Sound Of Music!
London Palladium address:
8 Argyll Street
London
W1F 7TF

How to get to the London Palladium:
(2mins) Exit 8 from the tube goes out onto Argyll Street (opposite the large Topshop). The theatre is 100 metres down the road.
Currently playing at the London Palladium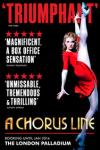 Auditions are underway for a new Broadway musical. For everyone present, it's the chance of a lifetime. It's the one opportunity to do what they've always dreamed of - to have the chance to dance.
Book your tickets for London Palladium over the the phone! +44 (0) 20 7492 1548