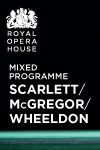 Three choreographers present their latest work at the Royal Opera House.
Booking from: Saturday, 3 November 2012
Booking until: Wednesday, 14 November 2012
Evenings: Monday to Friday 7.30pm and Saturday 7pm

Playing at the Royal Opera House.
Viscera: This dazzling ballet was the US choreographic debut of rising star Liam Scarlett. Intense, dynamic movement is set to Lowell LiebermannÂ?s driving score.
Infra: Wayne McGregor's virtuoso choreography is set against designs by Julian Opie. The ballet presents a complex and moving portrait of human relationships, set to Max Richter's haunting score.
Fool's Paradise: Gold petals flutter down on the dancers in Christopher Wheeldon's exquisite ballet. It contains beautifully nuanced pas de deux and a romantic score by Joby Talbot.