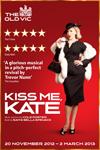 With magical tunes by Cole Porter and a plot detailing a contemporary take on William Shakespeare's wonderful play, the Taming of the Shrew, you can expect gangsters, romance, drama, action and comedy. It's a thrill a minute and it's back for another west end run, thanks to the marvellous Trevor Nunn.
Booking from: Tuesday, 20 November 2012
Booking until: Saturday, 2 March 2013
Matinees: Wednesday and Saturday 2.30pm
Evenings: Monday to Saturday 7.30pm

Playing at the Old Vic Theatre.
Kiss Me Kate tickets – Shakespeare with a contemporary twist
Trevor Nunn has pushed the boat out yet again with a spectacular rendition of Kiss Me Kate, the latest version of the 1948 Tony-Award-winning Broadway classic. Great man, great show, top class entertainment!
A stellar cast of thirty five, including the band, makes this modern version of the stage classic particularly lively and exciting, delivering a fresh new take on an enduringly popular story and creating a smash west end hit in the making.
It's a story within a story, a stage device proven to delight audiences with its complexity. When two armed gangsters try to collect their gambling debts, the fictional play's producer Fred Graham and his leading lady and ex-wife Lilli Vanessi find themselves embroiled in a series of off-stage romantic liaisons, which entangle with the Bard's original story of star-crossed lovers Kate and Petruchio. When the two very different worlds collide, conflict comes to the fore and causes havoc with Lois Lane, the actress who plays Shakespeare's Bianca, and her gambling addict lover Bill.
If you adore Cole Porter's delightful show tunes, you'll love this play with its catchy songs and sing-able lyrics, including show stoppers like Too Darn Hot, Brush up your Shakespeare and Another Op'nin, Another Show. It's a lively tale of violent gangsters, argumentative actors and twisty-turny romantic entanglements, all of which take place during a musical production of Shakespeare's classic, Taming of the Shrew.
Kiss Me Kate was Cole Porter's first stab at writing show tunes and lyrics to a specified script, and it proved a massive hit. So much so that it ran for over 1,000 Broadway performances and won the first ever Tony Award for Best Musical, a year after its release in 1949.
Don't miss out on this wonderful story within a story. Book your Kiss Me Kate tickets now and experience amazing sets, stunning period costumes, popular show tunes and highly skilled, totally convincing acting. Fantastic!