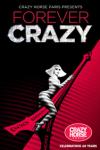 If you've always wanted to experience traditional Parisian Burlesque in all its fleshy splendour, this show is for you. It's a cabaret with a difference, a sophisticated show that's an exercise in wonderful French chic with a collection of talented beauties taking the stage for an eccentric romp through the fine art of authentic-style Burlesque. A night to remember!
Booking from: Tuesday, 18 September 2012
Booking until: Saturday, 22 December 2012
Evenings: Tuesday and Wednesday 8.30pm, Friday and Saturday 7pm and 9.30pm and Sunday 7pm

Playing at the The Crazy Horse.
Forever Crazy tickets – The ultimate west end cabaret experience!
London, meet Paris, Paris, meet London. From the moment you enter the specially created purpose-built venue on the Thames' south bank, you're whirled into a different world, the world of Paris' infamous Le Crazy Horse Saloon. Wow!
Now more than six decades on from its first production, this show has been delighting lovers of sheer stage sophistication ever since it opened. The Company is rightfully famous for its risqué stage shows, performed by naked female dancers, and for the thrilling magic and variety that takes the stage between every show.
This is an exercise in serious glamour, with ten dancers all of the same height and build creating a spectacular visual treat, precise and beautifully co-ordinated, a breathtakingly skilful and lavish spectacle complete with amazing lighting and fantastic effects.
A joyful celebration of the feminine and sensual, this is Paris's most seductive cabaret… ever! Expect all the mystique of the original Paris venue, recreated with verve and style in a magnificent mirrored Spiegel tent. The end result is a space that whisks you back in time, but is complete with every modern convenience including cabaret-style seating, four smart bars, a beautiful reception area and an ambience that shouts 'Paris' at every turn.
Forever Crazy is exclusively for grown-ups, and there's an over 18s policy in place. So leave the little ones at home and prepare for a splendid adults-only evening. With three types of seating on offer, there's something for every budget: Platinum seats deliver excellent views and table service on tap. Gold level seats are seriously luxurious, also with excellent unimpeded views of the stage. And silver tickets provide table service and premium seating too, again with great views.
Why not book your Forever Crazy cheap tickets now, before it sells out, and enjoy a unique west end theatreland experience with a difference?