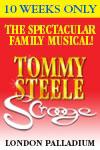 It's one of those tales that you never get tired off, the story of miserly, miserable Scrooge, as tight fisted as they come, and his gradual and terrifying emotional journey from Mr Nasty to Mr Nice, fraught with potential tragedy and filled with satisfyingly spooky encounters.
Booking from: Wednesday, 24 October 2012
Booking until: Saturday, 12 January 2013
Matinees: Thursday and Saturday 3pm
Evenings: Monday to Saturday 7:30pm

Playing at the London Palladium.
Scrooge tickets – Scarily good stuff!
It's a Dickens classic, loved by millions across the world and the West End's favourite Christmas show. Now it's due to hit the stage again, a case of perfect timing to mark the author's 2012 bi-centenary.
You probably already know the story: The wealthy but unhappy and highly unpopular Victorian businessman, Ebeneezer Scrooge, who encounters a trio of three unforgiving ghosts that change his miserly life forever.
Scrooge is as mean as they come, tight fisted and cruel. He's rolling in cash but he keeps it to himself, and there isn't a generous bone in his mean-spirited body. His employee, the poor, ragged Bob Cratchit, and his family are horribly poor, and Tiny Tim is on death's door. Not because he's ill, but because he's delicate and hungry, cold most of the time.
In spite of their problems the Cratchits are warm and generous. Scrooge thinks they're fools until his miserable life is highlighted by three ghostly presences who show him how much better things could be. Enter the Ghosts of Christmas Past, Present and Future, whose spooky revelations turn Scrooge from Mr Nasty to Mr Nice and save precious Tiny Tim's life into the bargain.
The show is based on the 1970 film of the same name, complete with everyone's favourite Scrooge tune, Leslie Bricusse's Thank You Very Much, which was nominated for an Oscar. It's a genuine musical extravaganza and a truly heart-warming tale.
Expect elaborate stage sets and wonderful period costumes, breath-taking optical illusions (designed especially by Paul Kieve, the magician who created the effects in the Harry Potter movies) and an ambience that propels you back through time to Dickens' day.
Thank goodness for happy endings, otherwise you'd leave the theatre in floods of tears! Scrooge is perfect for every age and taste, a fantastic way to enjoy the festive season and even better if you're in the mood for an ageless, timeless dose of traditional Christmas spirit!
Why not book your Scrooge tickets now, before it sells out, and enjoy a unique winter west end theatreland experience?