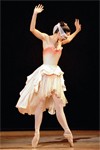 An aged ruler divides his kingdom between his two daughters. Princess Epine receives the smaller share and in revenge turns her sister's suitor into a salamander. Rose must enter a magical world to find her Prince.
Booking from: Saturday, 2 June 2012
Booking until: Friday, 29 June 2012
Evenings: 7.30pm
Running time: 2 hours 40 minutes

Playing at the Royal Opera House.
Prince of the Pagodas was originally choreographed by John Cranko in 1957, with a specially commissioned score by Benjamin Britten. Kenneth MacMillan restaged the ballet in 1989 and developed the scenario with writer Colin Thubron. Maintaining all the entrancing elements of a fairytale Â? a wicked sister, magic spells and a handsome prince Â? MacMillan added an extra psychological dimension, rooting the ballet in the real world of human experience.
Prince of the Pagodas contains some of MacMillan's most extraordinary and demanding choreography, from the wriggling reptile movements of the salamander-Prince to Princess Rose's violent encounters with her rejected suitors and her final glorious pas de deux with her Prince. Such invention is wonderfully complemented by Britten's score, which displays a dazzling variety of textures, including the complex sounds of Balinese gamelan music. The stylized Elizabethan designs of Nicholas Georgiadis complete a work rich in fantasy and colour.