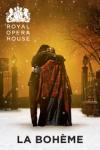 A lost key and an accidental touch of cold hands in the dark… so begins one of the great romances of all opera. John Copley's production brings 19th-century Paris to the stage in vivid detail.
Booking from: Monday, 17 December 2012
Booking until: Tuesday, 12 March 2013
Matinees: 12.30pm
Evenings: 7.30pm

Playing at the Royal Opera House.
Puccini's timeless favourite is one of the most loved of all operas. It is a touching story of tragic young love whose special appeal Royal Opera audiences always find irresistible. Beautiful melody and rich orchestral colour make any revival a treat, and there is the thrill of a cast of internationally acclaimed singers.
The classic production brings to life Paris of the 1830s, from the bare student garret to a bustling street, from a packed café to a snowy dawn on the edge of the city where a tragic truth is finally revealed. It is a lively staging and a potent musical drama, whether with the full forces of the Royal Opera Chorus in the merry bustle of Act II , or the Orchestra of the Royal Opera House evoking the changing atmospheres and shifting passions of Act III.