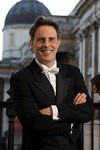 The LMA Orchestra presents a festive collection of pieces from Handel, Bach and many more.
Booking from: Saturday, 8 September 2012
Booking until: Saturday, 8 September 2012
Evenings: Saturday 7.30pm
Running time: 2 hours

Playing at the St Martin-in-the-Fields.
London Musical Arts will celebrate twenty years of performance at St Martin's in 2012. With their fine group of enthusiastic and committed musicians and through their innovative 'Mini Maestro' and 'Meet the Music' concert events they aim to inspire their audiences, both young and old, with a fresh sense of discovery and delight in the great music they perform.
Programme
Handel - Arrival of the Queen of Sheba
Handel - Larghetto
Bach - Orchestral Suite No 3 in D
Trad - The Old Hundredth
Handel - Laschia ch'io pianga
Handel - 'Scherza infida' from Ariodante
Handel - 'Where'ere you Walk' from Semele
Trad - Greensleeves
Handel - 'Overture' from Music for the Royal
Fireworks
Arne - Rule Britannia
Parry - Jerusalem