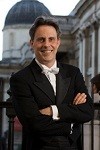 The LMA Orchestra opens an evening of music with Mozart's Eine Kleine Nachtmusik, with four more pieces that follow it.
Booking from: Friday, 13 April 2012
Booking until: Saturday, 21 July 2012
Evenings: Friday and Saturday 7.30pm

Playing at the St Martin-in-the-Fields.
London Musical Arts will celebrate twenty years of performance at St Martin's in 2012. With their fine group of enthusiastic and committed musicians and through their innovative 'Mini Maestro' and 'Meet the Music' concert events they aim to inspire their audiences, both young and old, with a fresh sense of discovery and delight in the great music they perform.
Programme
Mozart - Eine Kleine Nachtmusik
Mozart - Symphony No 29 in A
Handel - Arrival of the Queen of Sheba
Handel - Air and Hornpipe from Water Music
Haydn - Symphony No 44 in E minor 'Trauer'