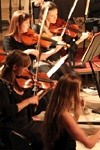 The LMA Orchestra performs Brandenburg Concerto Numbers 3, 5 and 6 as well as other Bach classics
Booking from: Friday, 3 August 2012
Booking until: Friday, 3 August 2012
Evenings: Friday 7.30pm
Running time: 2 hours

Playing at the St Martin-in-the-Fields.
London Musical Arts will celebrate twenty years of performance at St Martin's in 2012. With their fine group of enthusiastic and committed musicians and through their innovative 'Mini Maestro' and 'Meet the Music' concert events they aim to inspire their audiences, both young and old, with a fresh sense of discovery and delight in the great music they perform.
Programme
Bach - Brandenburg Concerto No 3 in G
Bach - Polonaise, Menuet, Badinerie from Suite 2 in B minor
Bach - Brandenburg Concerto No 6 in G
Telemann - Viola Concerto
Bach - Adagio in F
Bach - Brandenburg Concerto No 5 in D